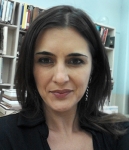 Special Collections and Digital Initiatives Librarian
Nadine Sergejeff has worked at the Newark Public Library since 2007 where she is a Reference librarian, Special Collections Division librarian, and website manager. She has a background in fine art and art history and prior to pursuing her MLIS, she was employed as a historical researcher.
At the Newark Public Library, Nadine provides reference service, develops the research-level collection of art books, markets library programs through social media, curates exhibits, replies to art inquiries, and manages the daily operations of the Special Collections Division. While Nadine has many interests, she is particularly fascinated with technology, social media tools, and the ways libraries can evolve to provide the most effective service during the 21st century.