In this new feature, we'll be highlighting innovative and impressive developments in libraries across New Jersey. First up: Piscataway Public Library's Make It Yourself, the first makerspace in an NJ public library. Make It Yourself (MiY) opened to a packed crowd of curious crafters, robotics enthusiasts and Lego lovers. MiY includes a wide variety of equipment for makers of all ages and interests, including arduino microprocessing kits, 3D scanners and printers, sewing machines, Legos for free play, a button maker, musical instruments and robotics kits.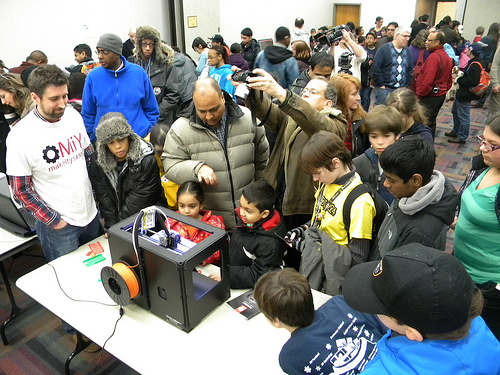 Head of User Services Allen McGinley said the library's staff "were really overwhelmed at the MiY launch -- not just from the sheer number of people who attended, but also by the level of engagement that they brought with them about the makerspace content. So many people initiated conversations with us about Maker Faires they'd attended, or based on knowledge they already had about 3D printers, or simply about how to be more involved in upcoming MiY projects. So what made this event such a success to us was not just that we had developed an exciting new project, but that it was something that really resonated with the Piscataway community, and it provided a great way to cultivate new relationships."
MiY will be a physical place where people have the opportunity to experiment with tools and materials, learn hands-on skills, and develop creative projects in a collaborative learning environment. The Library developed this project, in part, to offer programming that supports STEM education and ignites interest among young people in science, technology, education and math. Indeed, McGinley shares, "the real tipping point for [the library] was when we saw how naturally the MiY project could support STEM education. We're excited about offering MiY programming that can specifically promote education and interest in the areas of science, technology, engineering and math in a whole new nontraditional environment."
Technology Speed-Dating Programs
It's time to set your technology life in order and begin your search for the tech of your dreams and live happily ever after!
Presented by LibraryLinkNJ, the New Jersey State Library and the New Jersey Library Association, this program is designed for everyone working in libraries, no matter what type of library or department you work in, and regardless of your level of familiarity or comfort with tech. Mix and mingle with newbies and tech aficionados alike!
Choose from two dates and two locations:
Tuesday, March 5, 2013, Monroe Twp. Public Library (Middlesex County)
○ Registration Deadline: Has been extended to Tuesday, February 26th.
Wednesday, April 24, 2013, Gloucester County Library, Mullica Hill
○ Registration Deadline: Wednesday, April 10th.
Each program will be scheduled from 10 AM - 1 PM, with coffee starting at 9:30.
To register for either of the above locations, go to: http://librarylinknj.org/ce/technology-speed-dating
In just three hours meet plenty of eligible technology. Step back, observe and consider. Ask yourself these questions:
Can I see myself living with technology for the rest of my life?
Do I see in these technologies such potential that I want to invest time in them?
Do these technologies have the character, values and goals that will foster my desire to help library users?
If you answer "yes" to any of these questions, this program is for you! Meet the right gadgets for you & your community! Learn from and with your colleagues in a relaxed, practical and fun environment!
Each program will feature:
Table talks staffed by expert colleagues - talk, listen, discuss, and learn one-on-one.
Hot topics: smartphones, iPads, ebook readers, gaming, mobile apps or websites, productivity tools (Google Drive, Dropbox, Evernote, etc.), social media (Pinterest, Tumblr, Instagram, etc.) (Program content may be slightly different at each location.)
Gadgets and devices galore - get acquainted with your community's favorite devices, and how much each one costs.
Short presentations on tech, best practices and resources for teaching technology to your users.
Ensure that your library and you are the go-to resource for your community on 21st century information, learning, and consumer technologies.
Don't delay -- register today! Cost: $15.
---
Registration is now open for Persistent, Proactive and Personal: Planning for the Teen Presence in Your Library, a free webinar to be held on March 7.
What does it take to develop a library program that addresses the needs of teens in your community? More than that, what happens once the teens come in your door? Join Erin Downey Howerton, librarian and teen specialist, for a dialogue about the teen presence in your library. Learn about the elements crucial to working with teens, managing expectations of administrators and front-line staff, and developing a plan for dealing with the highs and lows of teens... in YOUR library.
Learning Objectives
After attending this webinar, participants will be able to:
Create groundwork for staff-wide buy-in to the teen presence in their library
Define teen behavior on a continuum from positive to negative
Provide support to both teens & staff to encourage positive interactions
Apply situation-based solutions when needed
Date & Time:
Thursday, March 7, 2013 -- 10:00 AM - 11:30 AM
---
Lynda.com Online Training Now Offers Mobile Access!

This massive online training source is available free to members of LibraryLinkNJ. Details on the program and our monthly open registration procedure can be found on our website. When you have registered and your account is activated, you can access lynda.com via mobile devices, as well as on your desktop or laptop. Lynda.com's mobile site is compatible with both Android and iOS-powered devices, and they offer an app for iOS, as well. Learn more at their Mobile Access page, or take a video tour of the mobile site. Lynda.com's online training is available, literally at your fingertips!