It's time again for LibraryLinkNJ's new, biweekly newsletter, Social Media Snapshots! In each issue, we pull together the best content from our social media channels and deliver them right to your inbox. We encourage you to follow us on Facebook, Twitter, Tumblr and Pinterest, but if you don't, you can rely on Social Media Snapshots to keep you up to date on developments in technology and libraryland -- here in NJ & around the country -- as well as fun things like photos you can share with your staff and patrons.
Want to know more about how you can use social media to connect with your community?
Contact Sophie Brookover.
Gardeners, rejoice! The first seed library in NJ opens later this month at the McCowan Public Library in Pitman, Gloucester County. "Housed at the Seed Library at McCowan will be the Authentic Jersey Tomato Seed Collection, a unique collection of heirloom tomato seeds that were bred in New Jersey. Some of the varieties in this collection were bred within a 40 mile radius of the Seed Library." (via Facebook)
One of the big highlights of ALA's Midwinter Meeting is always the Youth Media Awards Press Conference, held on the Monday of the conference. The photo below captures some of the excitement and joy of the event, as New Mexico librarian Angie Manfredi leaps out of her chair to celebrate Marcus Sedgwick's Midwinter Blood being announced as the winner of this year's Michael L. Printz Award. (via Facebook, See the photo below)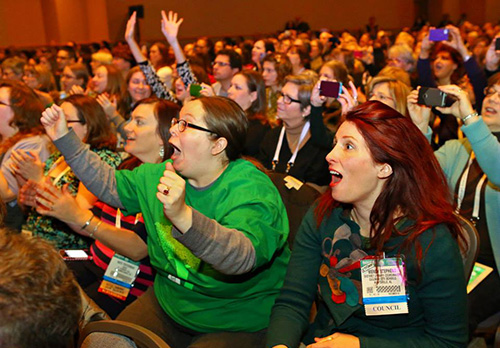 The first Saturday in February is a new-to-us holiday, Take Your Child to the Library Day. Celebrated for just the third time ever in 2014, this year's NJ participants included Harrington Park Public Library, Vineland Free Public Library and Middletown Township Public Library. Start preparing now for 2015! (via Twitter)
One more for your toolbox: this easy tip for making Google Spreadsheets more manageable will make your patrons & students think you are a genius. (via Twitter)
Get your hankies ready! The official trailer for the film adaptation of John Green's super-mega-bestseller
The Fault In Our Stars is out and breaking hearts all over the Internet. If you haven't read it yet, now is a good time to do so. Given the book's incredible crossover popularity, we expect the movie to be a cultural phenomenon this summer. (via Tumblr)
It is a truth universally acknowledged that when the going gets tough, the tough get a librarian. Or a cute image of a kitty-brarian in a cardigan. Either way. (via Tumblr, See the image on the left)




So much of storytelling and advocacy is rooted in experiences and data. Recent webinar presenter Jennifer LaGarde, aka Library Girl, shares her best practices for data-sharing on Library Love: Data Sharing.
Speaking of Pinterest, our Just for Fun board is newly stocked with the very finest groan-worthy pun-filled library Valentines. Enjoy! (See the images below)