It's time again for LibraryLinkNJ's new, twice-monthly newsletter, Social Media Snapshots! In each issue, we pull together the best content from our social media channels and deliver them right to your inbox. We encourage you to follow us on Facebook, Twitter, Tumblr and Pinterest, but if you don't, you can rely on Social Media Snapshots to keep you up to date on developments in technology and libraryland -- here in NJ & around the country -- as well as fun things like photos you can share with your staff and patrons.
Want to know more about how you can use social media to connect with your community?
Contact Sophie Brookover.
Let's start by celebrating our colleagues, shall we? This month, we have three colleagues with books to announce!
On Valentine's Day, Macmillan announced that they'd chosen A Little Something Different, a YA romance by Morristown and Morris Township teen librarian Sandy Hall, for formal publication by SwoonReads. SwoonReads is a crowd-sourced publishing platform where readers vote for their favorite manuscripts. The novel will publish in August, with a print run of 100,000. Congratulations, Sandy! (via Facebook)
C.L. Quillen and Ilene Lefkowitz, of West Caldwell Public Library and Denville Public Library, respectively, will publish their reader's advisory guide Read On...Romance Lists for Every Taste, with Libraries Unlimited in June. Congratulations, C.L. and Ilene! (via Facebook)
We're always on the hunt for fresh, creative, unusual, thought-or-laughter-provoking, cheeky, unexpected, and playful displays to share on our Best. Book Displays. EVER pinboard, and we'd love to showcase YOUR work. We're looking for displays that have a distinctive point of view, that make it clear that an extra bit of thought & effort went into them. We love traditional thematic displays, of course, but we all know what they look like & what to include in them. It Came From The Internet? Undressed Out West? I Can't Remember The Title But The Cover Was Blue? They all give a sense of the personalities behind the displays. Show us what you got! (See the photos below)
During last week's Reader's Advisory For a New Age webinar, presenters Anna Mickelsen and Kaite Stover introduced us to What Would Katniss Read?, a chart that breaks down the various appeal factors of The Hunger Games series. (via Twitter)
Looking ahead to National Library Week (April 13-19)? Try a participatory bulletin board like this one at Eden Prairie (MN) Public Library, which asks, Why Did You Come to the Library Today? There are a bunch of ways to do something like this, and it's got the potential to be revelatory, fun, and moving. (See the images below)
Students at Montclair State University highlight the history, accomplishments and future of the Newark Public Library in honor of the library's 125 years of service in this lovely video. Coverage of the library begins at the 19:12 mark. (via Twitter)
Philadelphia photographer Kyle Cassidy set up shop at ALA's Midwinter Meeting and shot some incredible portraits of our colleagues from around the country. Slate ran a 10-photo portfolio, and now the Philadelphia Inquirer has highlighted 10 more beautiful shots of some colleagues & friends you may recognize, including NJ's own JP Porcaro and Rutgers MLIS student Fobozi M. Ettarn. (Via Twitter)
When in doubt, Keep Calm and Ask a Librarian. Our colleagues at the Vineland Public Library are having a wonderful time building team spirit in their new matching t-shirts. (via Facebook, See the photo below)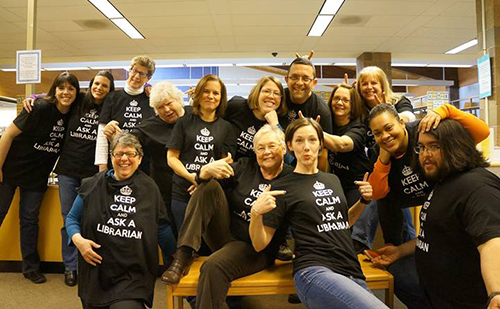 Anna Haase Krueger is launching the Everyday Diversity project: "I want storytime to reflect the lives that my kids are living here and now. Bedtime books, loose tooth books, new baby books. I want books that feature diverse characters telling the stories that are universal. But those books are hard to discover in our library catalogs even when they are there." If you want to participate, drop Anna a line! (via Tumblr)

It's a shame that students at the REALM Charter School in Berkeley had to ask for a library to be built in their school, but what they've designed -- X-Space -- is pretty amazing. (via Tumblr)

Ten Simple Tips to Become a Better Reader
(via Facebook, See the image on the right)