Social Media Snapshots is our regular dose of all the best content from our social media channels, delivered right to your inbox. We encourage you to follow us on Facebook, Twitter, Tumblr and Pinterest, but if you don't, you can rely on Social Media Snapshots to keep you up to date on developments in technology and libraryland -- here in NJ & around the country -- as well as fun things like photos you can share with your staff and patrons.
Want to know more about how you can use social media to connect with your community?
Drop Sophie Brookover a line!
The 15 Punctuation Marks (in order of how difficult they are to learn & use): this handy chart has been making the rounds for a while - how great would it be to have it available in poster form?! (See what I did there, with the interrobang?) Writing mechanics aficionados, do you have a favorite punctuation mark? The em dash and parentheses (for my beloved parenthetical asides) are mine. (Via Facebook, See the image below)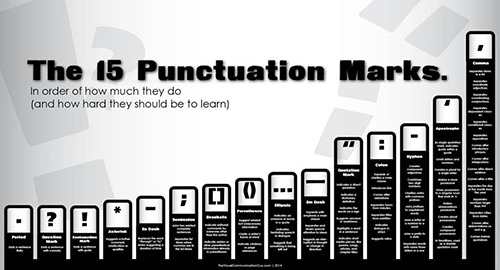 Sadly, World Book Night USA is ceasing operations, citing the high cost of running the program here. World Book Night will continue to delight readers and donors in the United Kingdom.
Is your library's bookdrop stuffed to bursting after a long holiday weekend? Can you beat the Bernards Township Public Library's post-4th of July circ desk scene? Show us! (Via Facebook, See the image below)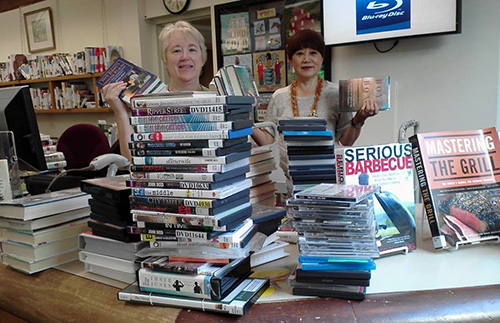 From Piscataway Public Library, it's Your Vacation Toolkit, a Pinterest board all about planning weekend getaways and epic trips.
Your must-view of the week: a 10-minute documentary about the library-as-refuge for homeless community members in Tampa, FL. A great follow-up to the recent NJLA Pre-Conference on outreach and services to the homeless, Takin' it To The Streets. (Via Tumblr)
The Millions' feature on their most anticipated books of the second half of 2014 highlights some titles we know your literary-minded teen and adult readers will be clamoring for. Read on for enticing evaluative blurbs of titles from Haruki Murakami, Roxane Gay, Tiphanie Yanique, Lena Dunham, Ian MacEwan and many (many!) more.

Vee Parker, Worst Reader's Advisor EVER. (Via Tumblr, See the image on the left)
| | |
| --- | --- |
| Shop Talk! Here's a handy round-up of links about managing organizational social media presences: | |