The 3Doodler allows you to sketch in three dimensions. It works on the same principle as a 3D printer - plastic is heated and extruded through the tip of the pen. It is a great introduction to the concepts of 3D printing, no software or 3D design skills needed!
The 3Doodler has many potential applications:
Personalize most plastic objects, like phone cases and rubber ducks
Repair objects made from plastic by "welding"
Make a 3-dimensional objects and paint them
Check out their website for examples of projects that people have doodled and a comprehensive FAQ section. They are accepting pre-orders and expect to begin shipping in February. The 3Doodler + 50 strands of either ABS or PLA plastic will cost you $99. Plasic refills run $10 for 25 strands.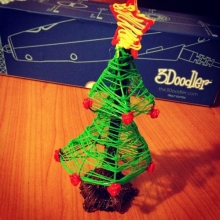 Contact Information
Megan England
Teen Services Coordinator
Atlantic City Free Public Library
1 Tennessee Avenue
Atlantic City, NJ 08401
(609) 345-2269 ext. 3052