Source Title
Circuit Scribe: Draw Circuits Instantly
Circuit Scribe is the latest amazing piece of tech to be overwhelmingly funded on Kickstarter.
"Circuit Scribe is a rollerball pen that writes with conductive silver ink. It makes creating circuits as easy as doodling."
I see this as a fantastic way to introduce people to the basic concepts of circuits without having to pull out the possibly intimidating breadboards, alligator clips, and soldering iron. As much as I love all of those things, the Circuit Scribe has an endearing simplicity that will be very attractive to children especially. Imagine beautiful pieces of art drawn in silver ink that are also working circuits!
You can use Circuit Scribe with MaKey MaKey, Arduino, and other platforms.
The developers of Circuit Scribe have reached their stretch funding goal to "make the robust, user-friendly education portal of our dreams! We'd like to build a platform for kids, educators, & makers with activities, lesson plans, and user-submitted projects. We'd also like to do more workshops & outreach events."
There is still time to back the project if you would like to receive one of the first kits; otherwise, purchasing information will be made available in 2014.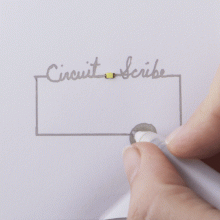 Contact Information
Megan England
Teen Services Coordinator
Atlantic City Free Public Library
1 Tennessee Avenue
Atlantic City, NJ 08401
(609) 345-2269 ext. 3052