Resources Supporting the NJ Common Core Technology Component
submitted September 15, 2014
by Arlen Kimmelman, President, NJ Association of School Librarians
Week 2: Digital and Civic Citizenship
The NJCCCS in Technology are a part of the NJ Statutes and Regulations. Please refer to: N.J.A.C.6A:8 - Standards and Assessment for Student Achievement.
Content Statement: "Technological advancements create societal concerns regarding the practice of safe, legal, and ethical behaviors." This is the gist of the Digital Citizenship strand of NJ's World Class Standards.
These are the cumulative progress indicators (definition on p. iii) that students are expected to achieve:
By the end of grade 2:
Model legal and ethical behaviors when using both print and non-print information by citing resources.
By the end of grade 4:
Explain the need for each individual, as a member of the global community, to practice cyber safety, cyber security, and cyber ethics when using existing and emerging technologies.

Analyze the need for and use of copyrights.

Explain the purpose of an acceptable use policy and the consequences of inappropriate use of technology.
By the end of grade 8:
Model appropriate online behaviors related to cyber safety, cyber bullying, cyber security, and cyber ethics.

Summarize the application of fair use and Creative Commons guidelines.

Demonstrate how information on a controversial issue may be biased. (note: The previous link is the NJDOE's link.)
By the end of grade 12:
Evaluate policies on unauthorized electronic access (e.g., hacking) and disclosure and on dissemination of personal information.

Demonstrate appropriate use of copyrights as well as fair use and Creative Commons guidelines.

Compare and contrast international government policies on filters for censorship

Explain the impact of cyber crimes on society.
⇛ISTE's Nine Elements of Digital Citizenship
Chapter 2 of Mike Ribble's Digital Citizenship in Schools, Second Edition, is about the Nine Elements of Digital Citizenship. This resource provides 32 pages of definitions, explanations and examples of, "The elements [that] provide a framework for understanding the technology issues that are important to educators." (p.15)
⇛Common Sense Media: Lessons and Resources in Digital Citizenship
One of the most suggested and comprehensive places to start is Common Sense Media. They provide lessons and resources for K-12.
These lessons cover a wide range of digital citizenship topics:
Internet Safety
Privacy & Security
Relationships & Communication
Cyberbullying
Digital Footprint & Reputation
Self-image and Identity
Information Literacy
Creative Credit & Copyright
Part of their mission is to, "Help us raise a generation of kids who think critically, act responsibly, and interact positively in the digital world." Ok, that matches well with New Jersey's content statement for digital citizenship in the technology standards.
⇛Creative Commons: Content to "Share, Use, and Remix"
What seems obvious to some but alien to others is Creative Commons. They strive,
"To achieve the vision of universal access, someone needed to provide a free, public, and standardized infrastructure that creates a balance between the reality of the Internet and the reality of copyright laws."
I always send my staff and students to the Creative Commons search or to a subscription database for the photos, video clips, and music for their school projects.
⇛Copyright Friendly, Creative Commons, Public Domain and Fair Use
Started by Joyce Valenza at the Springfield Township High School Virtual Library, Spartan Guides offers a plethora (I love that word) of resources for all things go-ahead-and-use-its. It was originally housed on a wiki.
⇛Censorship, Cybercrime, Privacy, and the Law
The American Bar Association suggests lessons on Teaching about Freedom of Speech. Scroll down to Lessons by School Grade. Though it is not easily navigable, it offers an authoritative place to review lessons and resources.
⇛Cyberbullying
The Cyberbullying Research Center has resources for cyberbullying no matter what it is called, "cyber bullying," "electronic bullying," "e-bullying," "sms bullying," "mobile bullying," "online bullying," "digital bullying," or "Internet bullying."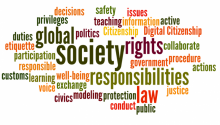 Contact Information
Arlen Kimmelman, Clearview Regional High School Library