Introduction
As if Common Core Standards need an introduction. Well, actually, they might. Here's the opening paragraph from NJ's Department of Education Standards home page. [Note that the boldfaced text in this excerpt is mine]:
The New Jersey Core Curriculum Content Standards were first adopted by the State Board of Education in 1996. The standards are not curriculum, which is decided at the local level.  Rather, the standards describe what students should know and be able to do upon completion of a thirteen-year public school education. The standards are also designed to help teachers prepare our students to be college- and career-ready. Revised every five years, the standards provide local school districts with clear and specific benchmarks for student achievement in nine content areas.
What this means is that the standards are the goals of teaching, not the way in which the goals must be achieved. That leaves a good deal of leeway about how educators teach the standards. That's why pedagogues are always looking for resources to help them meet these benchmarks with their students.
Why should Academic and Special Librarians care?
Some college courses may have to be realigned with high school courses.

The methods of teaching higher education students may change.

Anyone who graduates and moves on to teaching will have to be able to know how to use the standards.

Collaborations between teachers and professors for college readiness may change.

Collaborations between teachers and business people for work readiness may change.
(Thanks to David Conley for his good ideas about this topic!)
For example, Rutgers University Sponsors a Summer Institute for Guided Inquiry for Student Learning each year. This year's Institute description [my bold]:
Based on the extensive research of CiSSL, Guided Inquiry provides a visionary, constructivist approach to addressing Common Core State Standards and developing students as reflective learners in the process of seeking, evaluating and using a variety of sources of information.
The first goal of the Institute listed, "What is Guided Inquiry? How does it fit with the Common Core?"
Why should Public Librarians care?
In June 2014 I presented at the New Jersey Library Association conference with Ellen Pozzi from William Paterson University. She displayed a succinct chart of what Public Librarians can do to support student learning aligned with the Common Core State Standards: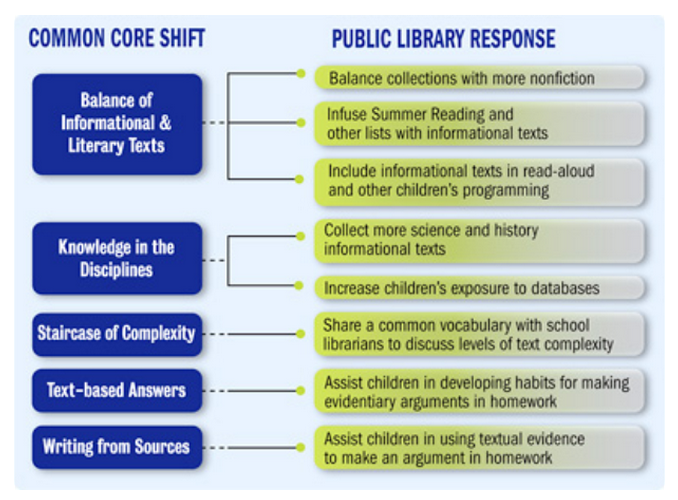 Why should School Librarians care?
One reason New Jersey's School Librarians should care is because of PARCC. "The Partnership for Assessment of Readiness for College and Careers (PARCC) is a group of states working together to develop a set of [computer-based K–12] assessments that measure whether students are on track to be successful in college and their careers. … The PARCC assessments are aligned to the Common Core State Standards (CSSS) and were created to measure students' ability to apply their knowledge of concepts rather than memorizing facts."
In case you're curious, here's a list of the states participating in PARCC testing:
Arkansas, Colorado, District of Columbia, Illinois, Louisiana, Maryland, Massachusetts, Mississippi,

New Jersey

,

New Mexico, New York, Ohio, and Rhode Island
Note: As of March 2014, the following states have withdrawn from participating in PARCC assessments: Alabama, Delaware, Florida, Georgia, Indiana, Kentucky, North Dakota, Pennsylvania, Tennessee, and Utah. (http://en.wikipedia.org/wiki/PARCC#Membership)
Please see the NJ Department of Education's Testing Calendar for 2014-2015 School Year.
---
Understanding Computational Thinking
The NJCCCS in Technology are a part of the NJ Statutes and Regulations. Please refer to: N.J.A.C.6A:8 - Standards and Assessment for Student Achievement.
The NJ Department of Education's website, an obvious place to start to look for resources that support the NJ Core Curriculum Content Standards for the Technology Component, provides quite a lot of resources categorized as:
Career Clusters

Higher Education

Strategies for Success: Tips, Issues and Trends

Integration

Project-based Learning

Constructivism

Other States' and Districts' Standards

Lesson Plan Database

Technology Education

Educational Activities (broken down by grades)

WebQuests

CyberEthics & Safety

Graphic Organizers

NJ Best Practices
The NJCCCS in Technology depend on understanding computational thinking. Don't let the term scare you; it simply means a  problem solving method, technique, or thought process used by computer scientists. I really like the simple breakdown described by 'snyder at cs dot washington dot edu'; the Six Computational Thinking Practices described apply to all kinds of library patrons: school, public, academic, and special. It involves:
Analyzing the Effects of Computation

Creating Computational Artifacts

Using Abstractions and Models

Analyzing Problems and Artifacts

Communicating Processes and Results

Working Effectively In Teams
Look at the following examples to see how easily these computational thinking practices match AASL's Standards for the 21st Century Learner: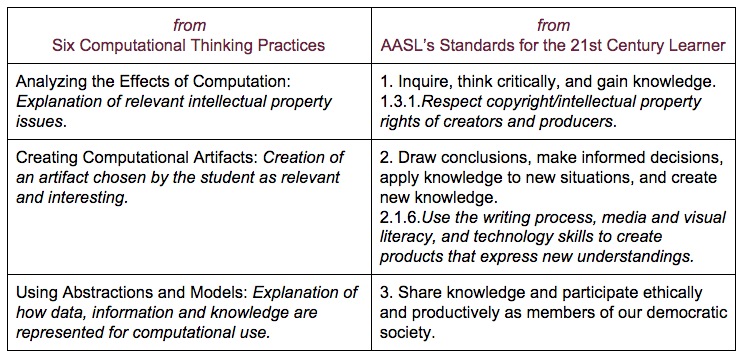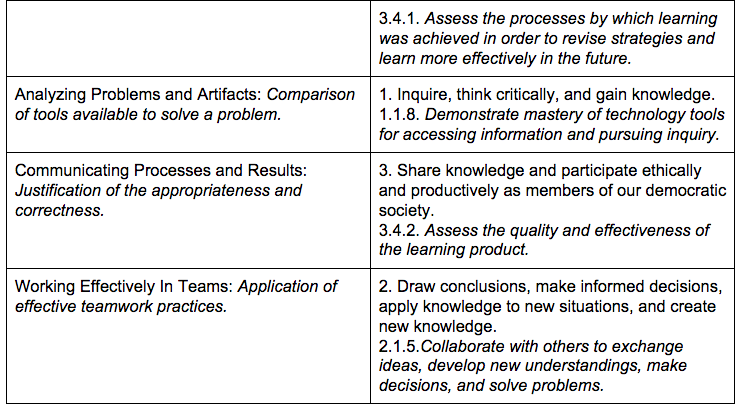 It's great to know that
librarians already play a major part
in fulfilling one of the basic roles at the core of NJ's Technology Standards in which our patrons "...must
be able to harness the power of technology to live, solve problems and learn in college, on the job and throughout their lives." (
http://www.state.nj.us/education/aps/cccs/tech/
)