Source Title
LeMasney Consulting
I decided that I'd introduce some of my favorite open source design tools here for librarians who want to find powerful, free tools for design. This list covers graphic design, layout, web design, content management and some other topics. 
Inkscape (http://inkscape.org) is a vector based illustration program that I use every day. It is a free equivalent to Adobe Illustrator, and provides the rich tools that you would expect of any true design tool, such as node editing, shape manipulation, effects, layering, masking, clipping, and fine kerning, amongst many other tools. 
GIMP (http://gimp.org) is an image manipulation tool on par with Adobe Photoshop. It has everything you would expect for editing photos: Layers, layer filters, masking, transparency, brushes, effects, histogram, and a lot more. 
Chrome (https://www.google.com/intl/en/chrome/browser/) is an open source web browser that is extensible with addons and plugins, much like Firefox. I like the ability to right click on a web page, and see detailed information about the particular element I've clicked on. I also really love the web developer extension for seeing CSS and other details about a page. 
Blender (http://blender.org) is an open source 3d modeling tool that you can use to build three dimensional models of anything you can imagine, then use the model in websites, designs, or even in 3d printing. 
Synfig Studio (http://www.synfig.org/cms/) is the closest thing you will find to a flash style animation editor in open source. You can use it to build motion graphics, animations, and splash pages. 
VLC (http://videolan.org) or Video Lan Client is a fantastic free media player and tool. You can use it to transcode video, grab screenshots from DVDs, save clips, and of course, watch movies and listen to music. It is a powerful tool. 
Audacity (http://audacity.sourceforge.net/) is an open source multitrack audio editor. With it, you can build professional audio clips, complete with all of the effects and edits that you would expect, like fade in, fade out, distortion and delay effects, and other manipulations. It's perfect for podcast editing.  
FileZilla (http://filezilla.org) is useful in the event that you are working with a site over SFTP or FTP. If you need to transfer files to a server that supports either of these protocols, FileZilla is a great way to do it. 
WordPress (http://wordpress.org) is an open source content management system that you can use to build social networks, landing pages, business card sites, or full-blown intranet/extranet solutions. It is a very well supported, well-known, and extensible solution. 
Drupal (http://drupal.org) is for anyone who feels that they have outgrown WordPress, and needs a more flexible platform to build upon. What you will lose in ease of use in Drupal, you will surely gain in flexibility.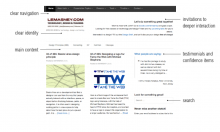 Contact Information
John LeMasney
lemasney [at] gmail.com
@lemasney
609 553 9498