Transparency is the New Black:
New Literacies That Look FABULOUS On You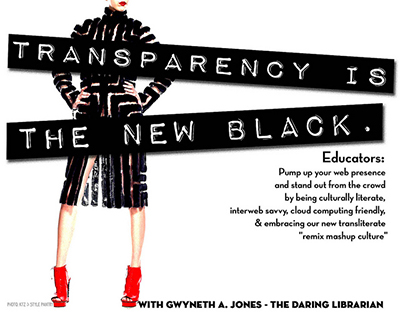 Audience: especially designed for school librarians, with valuable insights for all practitioners!
Date: Thursday, January 22, 2015 | 3:00 - 4:15 PM
Presented by Gwyneth Jones, The Daring Librarian
Registration is open now!
Be daring and go transparent! Straight from the Paris & New York runways, it's time to be on-trend and change into that digital shift! 8 stunning ways to pump up your web presence and stand out from the crowd by being culturally literate, curation cultured, interweb savvy, and cloud computing friendly. Advocate for your practice and our profession by embracing social media and start strutting your stuff. Having a hip web presence isn't showing off - it's sharing with the community! Gather 'round, it's time to make it work!
After participating in this webinar, you'll be able to do the following - all at no cost and with minimal time invested:
Establish a presence for your school library media program on one of the eight services presented and enhance the work you're already doing in those spaces;
Build cultural literacy into your daily teaching and learning practice;
Advocate for your students, colleagues, and your school library media program throughout the Internet.

Register today to secure your spot!
----------------------------------------------------------------
Save The Date!
Open Data and Libraries: The Future Is Now
Thursday, February 18, 2015 | 10:00 - 11:30 AM
Presented by Anastasia Diamond-Ortiz, Cleveland Public Library
The conversations about data in libraries have shifted from being about circulation and reference desk tally sheets, to focusing on the ways we can collect and synthesize community and open data. We can help our communities solve their most pressing problems. As librarians become more data literate and proactive in understanding how data of all kinds influences daily life, we bring added value to our governments, campuses and classrooms. It is time for everyone to jump into the conversation about data and what it means for libraries. This session is an introduction to the emerging data landscape and the implications for libraries of all types.
By the end of this webinar you will be able to:
Articulate the differences between open data, civic data, community data, and big data and how they will affect libraries in the near future.
Develop data literacy through the exploration of some examples of successful open data projects.
Start a discussion about potential applications for using open data in your library and community.
---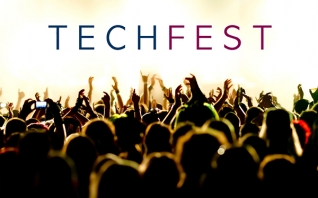 Join colleagues from around the state at one of three convenient locations for a uniquely New Jersey learning experience.
We've rebooted Tech Speed Dating and are selecting six hot topics for each of our 20-minute Table Talks -- the topics that we think will be among the most important for all libraries in 2015.
Upgraded for this year: a full hour of Guerrilla Tech Hacks, based on the lively, crowdsourced methodology (everyone has expertise and knowledge to share) pioneered by our friends at the Storytime Underground.
Topics will vary by location, and may include:
The Internet of Things: redefining what we do, again
Chromebooks and other low-cost computing solutions
Mobile Device Diversity: how to manage and help our patrons
Makerspace Updates and STEAM Programming: something for everyone
Device Assistance Policies: what we can, should and shouldn't do
Device and Data Security: who's watching and what it means
Technology Accessibility Issues: helping everyone in our communities participate
All this -- plus networking with colleagues! -- for just $15 per person.
Space is strictly limited to 45 participants at each location. We'll be happy to put you on a waitlist, but register early to secure your spot!
Audience: Everyone working in NJ libraries - no matter what type of library, level of knowledge, familiarity or comfort with tech. Mix and mingle with newbies and tech experts alike.
Each program will be scheduled from 10 AM - 1 PM, with coffee and registration starting at 9:30 am.
Choose from three dates and three locations:
Wednesday, January 21, 2015, Parsippany Public Library (snow date is Tuesday, Jan. 27th) -- registration for this date is full. We have a limited number of spaces available on the waiting list.
Tuesday, March 24, 2015, Gloucester County Library, Mullica Hill
Wednesday, June 3, 2015, Monroe Twp. Public Library (Middlesex County)
Register today to secure your spot.
---
Save the Dates: Super Library Supervisor Returns!
Our annual series of workshops for new library supervisors will return this spring. Please save the dates below. We'll open registration at 10 AM on Tuesday, February 10, 2015. We usually fill all 25 spots by noon on the first day of registration.
Wednesday, March 25, 2015
Wednesday, April 8, 2015
Wednesday, May 6, 2015
Wednesday, May 13, 2015
Location: Monroe Township Public Library (Middlesex County)
Target Audience: Library staff who are currently supervisors and have less than five years experience. (More experienced supervisors are welcome, if this is their first supervisory training.)
Cost: $199 - includes all course materials, continental breakfast and lunch for all 4 sessions.
Registration opens at 10 AM on Tuesday, February 10, 2015.