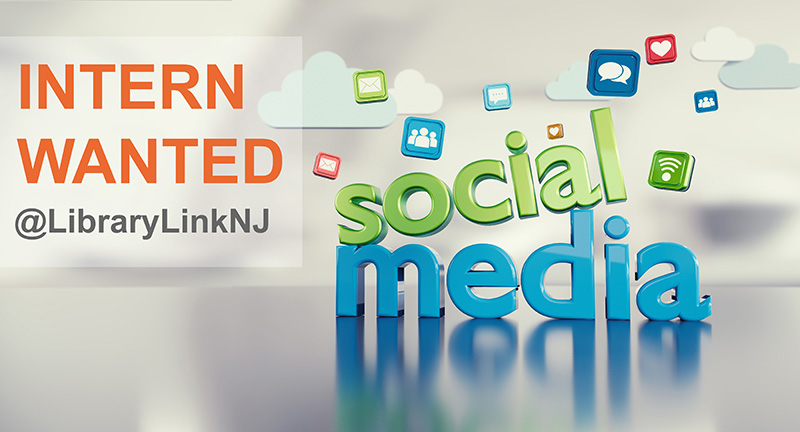 LibraryLinkNJ is seeking a social media intern for 2017-18 to select and share content across our presences on Facebook, Twitter, Tumblr, and Instagram. The ideal candidate will begin the internship in October 2017. The paid internship duration and hours are negotiable, preferably 7-10 hours per week.
LibraryLinkNJ is New Jersey's statewide library cooperative, serving public, school, academic & special libraries throughout the Garden State. This internship is designed to provide meaningful, hands-on training and experience in the area of library communications and innovation.
DUTIES
Under the supervision of the Social Media Manager, the Social Media Intern will:
Review international, national, and state-level library and library-adjacent news sources to select content to share
Review Twitter lists, Tumblr dash, and Instagram feed for content to retweet, reblog or regram
Maintain and develop public lists on Twitter
Use LibraryLinkNJ's social media presences to build awareness of national and international library and library-related news
Foster engagement with LibraryLinkNJ's audiences across all social media platforms currently in use
Make recommendations regarding our work on current platforms and others we might consider using
The Intern will work closely with and be supervised by Sophie Brookover, LibraryLinkNJ Program Coordinator & Social Media Manager.
Our presences on Facebook, Twitter, Instagram and Tumblr are designed to:
Promote the Cooperative's work, events, and initiatives
Highlight the accomplishments and milestones of member libraries, colleagues, and fellow statewide library organizations (NJ State Library, NJLA, NJ Association of School Librarians, VALE, Documents Association of NJ, Special Libraries Association - Princeton and New Jersey Chapters, Association of College & Research Libraries - NJ Chapter, et al.)
Build awareness of national and international library and library-related news
Illustrate for member libraries successful strategies for using social media tools
Our voice in all spaces is warm & informed. We aim to be libraryland's savvy older cousin: someone who has an eye on all the major conversations among our colleagues and a clear-eyed perspective on the issues facing our profession. We're professional, while always making room to include a wink or witty aside.
EXPERIENCE
The ideal candidate will be a current student in an ALA-accredited LIS graduate program, have demonstrated skill with and passion for social media and libraries. Familiarity with New Jersey is a plus. Graphic design skills a plus.
SALARY & HOURS
$17/hour, for up to 10 hours/week. Some face-to-face interaction is required but most work will be done remotely.
TO APPLY
Please submit cover letter, resume, and references to Kathy Schalk-Greene, Executive Director, at kathy@librarylinknj.org. Applications due on September 8, 2017.