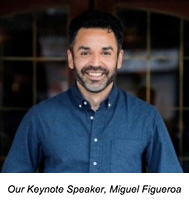 Friends & Colleagues, registration is now open for the LibraryLinkNJ Spring Membership Meeting on Wednesday, June 13 at the Forsgate Country Club in Monroe Township, Middlesex County.
Our program, with keynote speaker Miguel Figueroa, is called Telling Stories About the Future: Changes, Trends and Values. Miguel Figueroa works at the Center for the Future of Libraries, an initiative of the American Library Association, and is the author of its indispensable weekly newsletter, Read For Later.
Using the work of ALA's Center for the Future of Libraries, this interactive presentation will illuminate how thinking about the future begins with the study of change – looking outside of our immediate environments to consider the sustained trends happening in the wider world.
Please find registration and additional information at the Spring Membership Meeting information page.
For those who can't join us in person, we're also making the Business Meeting and Keynote available virtually, via Adobe Connect and Facebook Live, respectively.
Where: We're returning to the beautiful Forsgate Country Club, so we can all be together for this event.
Some enticing details:
Location, location, location! Forsgate Country Club is centrally located in Monroe Township in Middlesex County, right off the NJ Turnpike Exit 8A. If you've been to a meeting at the Monroe Township Library, you've probably driven right past the entrance
We'll be in the Highlands Ballroom, which features floor-to-ceiling windows overlooking the gardens and fairways
We've selected a delicious buffet lunch for you to enjoy
The Country Club offers ample and convenient parking lots on both sides of the Club House
Who: Everyone at all member libraries! Please come out to network and participate with your colleagues!
We look forward to a great afternoon of networking, learning, and conducting the business of the Cooperative. Come for the delicious buffet and stay for the professional development!