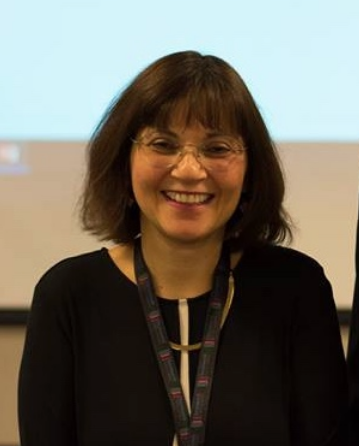 We're very proud of the New Jersey librarians who were named 2018 Library Journal Movers & Shakers. In this edition of Member Spotlight we celebrate the accomplishments of Karen Parry, Information Services Manager at the East Brunswick Public Library and founder of Just for the Health of It!, a health research service at the library.
The East Brunswick Public Library has been running "Just for the Health of It!" since 2009. How has the program changed between then and now?
Just for the Health of It started in fall of 2009 response to a notable demographic shift in the community – many new immigrants and also seniors were settling in East Brunswick around 2009 and they all shared something in common. Specifically, they turned to the library reference desk in need of help finding health information. The most important thing to stress is that Just for the Health of It started out in a small corner of the library with a few health books and has grown to be recognized in 2017 by the New Jersey Hospital Association as a model health literacy program. It is also currently in Phase 2 of a grant application with Robert Wood Johnson Foundation to expand the program throughout Middlesex County via a Health Information Library on Wheels that would bring health information to communities at risk for poor health outcomes. Take a look at this article that recently appeared in the newspaper
What kind of challenges do patrons face in finding reliable health information? What challenges to librarians face in providing it?
Just for the Health of It was designed to bring equitable access to health information to those individuals who are most at-risk for poor health outcomes. These consist of the poor, elderly, and new immigrants who face health literacy challenges such as low literacy; access to reliable health information in their native language; and physical or visual impairments associated with aging, such as Parkinson's disease; macular degeneration, glaucoma; or cataracts. It is a custom research program where librarians become certified consumer health researchers through the Medical Libraries Association's CHIS (consumer health information specialization) Program and tailor each health request to the literacy level and language of each unique patron so that the health information can be acted upon to improve health outcomes.
Do you still advocate for smaller reference collections? What new trends do you foresee in library reference services?
I am the Manager of Information Services and I manage the research arm of the library. I am a strong believer in community partnerships and that librarians must leave the secure nests of their libraries and venture out into their communities by attending various town fairs and events. The next generation of librarians need to become visible, active marketers who boldly inform people how we can add value to their lives. We need to let people know that we are the experts in finding, evaluating, and synthesizing information in a way that makes it become alive and relevant. We are the original information specialists and we need to let that be known! In addition to health, I actively work with our local business community; I manage the Career Connections grant with the NJ Department of Labor to help job seekers; and I work closely with the East Brunswick Public Schools and ESL Programs. I also purchase databases for children through adults that consist of preschool databases that teach reading through to the most sophisticated Valueline and Morningstar databases for the most demanding business investors.
EBPL just eliminated overdue fines on materials for children and teens. What's the most exciting part of this new development? How have patrons responded?
We eliminated fines for children and teens as a barrier to access. There is a downward trend in libraries for money recovered through fines. This is because fewer books are circulating and patrons today are shrewd shoppers who want information delivered in their choice of formats, whether it be print, eBooks, audio book, or streaming. In addition, removing fines assures equal access to all children and teens, many of whom may be new to this country, perhaps from low-income families or have parents out of work who are unable to pay fines. Instead of shutting out children and teens for reasons beyond their control, the library has made learning our mantra by lifting all barriers to access.