This spring, LibraryLinkNJ's popular Super Library Supervisor training series met virtually via Zoom in March and April.

This training series for new and novice supervisors is designed to help prepare the next generation of library mangers and leaders as they work to become exemplary supervisors. Participants from across the state joined us for 4 days of training sessions, tackling the following topics:
What it Means to be a Supervisor
Know Your Why: Motivating and Supporting Your Staff
Personnel Documentation & Evaluation
HR Basics Every Supervisor Should Know
Open & Honest Communication in the Workplace
Building Relationships & Resolving Staff Conflict
What Your Staff Aren't Telling You: Leading with Empathy
Running Successful Meetings
We want to commend all of this spring's participants on their hard work and commitment to improving their supervisory skills, and we're happy to acknowledge the Super Library Supervisor Class of Spring 2023: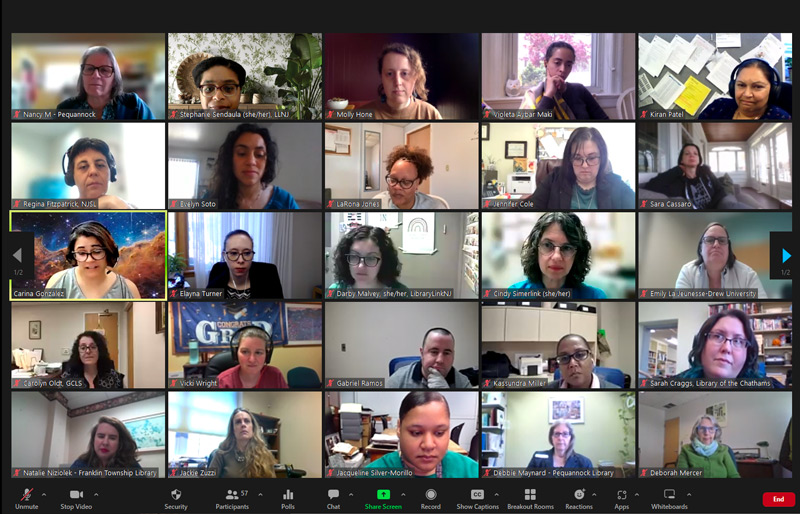 Violeta Aybar-Maki, Union City Public Library
Nico Belott, Asbury Park Public Library
Alexa Bongala, Pennsauken Free Public Library
Sara Cassaro, Bogota Public Library
Kevin Chung, Newark Public Library
Jennifer Cole, Little Falls Public Library
Sarah Craggs, Library of the Chathams
Rebecca Eaton, Mercer County Library System
Dwayne Everett, Burlington County Library System
Regina Fitzpatrick, New Jersey State Library
Elizabeth Gaworski, Cape May County Library
Emily Getzinger, Camden County Library System
Tasha Graziani, Moorestown Library
LaRona Jones, Union Public Library
Rachel Kelly, Jefferson Township Public Library
Emily La Jeunesse, Drew University
Glenny Martinez, West Orange Public Library
Nancy McMahon, Pequannock Township Public Library
Brendan Meany, Raritan Public Library
Marcia Pacheco, North Bergen Public Library
Susan Parenteau, Gill Memorial Library
Kiran Patel, Maple Shade Library
Todd Pickens, Rutgers University
Gabriel Ramos, Union Public Library
Donna Ricker, Parsippany Public Library
Christopher Shupenko, Garfield Public Library
Jacqueline Silver-Morillo, Atlantic City Free Public Library
Cindy Simerlink, Gloucester County Library System
Evelyn Soto, Freehold Public Library
Elayna Turner, Gloucester County Library System
Albena Tzankova, Mercer County Library System
Dylan Vetter, Washington Township Public Library
Dana Vocht, East Brunswick Public Library
Emily Witkowski, Hunterdon County Library
Candace Worrell, Franklin Township Library
Kim Yates-Murphy, Sussex County Library System
The series concluded with a graduation ceremony featuring remarks from incoming NJLA President Carina Gonzalez. Thank you to Carina for your words of encouragement and support!
Super Library Supervisors will return in-person this fall;
keep an eye on our newsletter, calendar, or email communication for more details!