MentorNJ Online Meet-ups for Everyone
What Are They? Online Meet-ups via Zoom
This is the time and place to discuss your concerns, share your ideas, and "hang out" with your colleagues. We can discuss a particular topic or just chat about what life is like in the library community!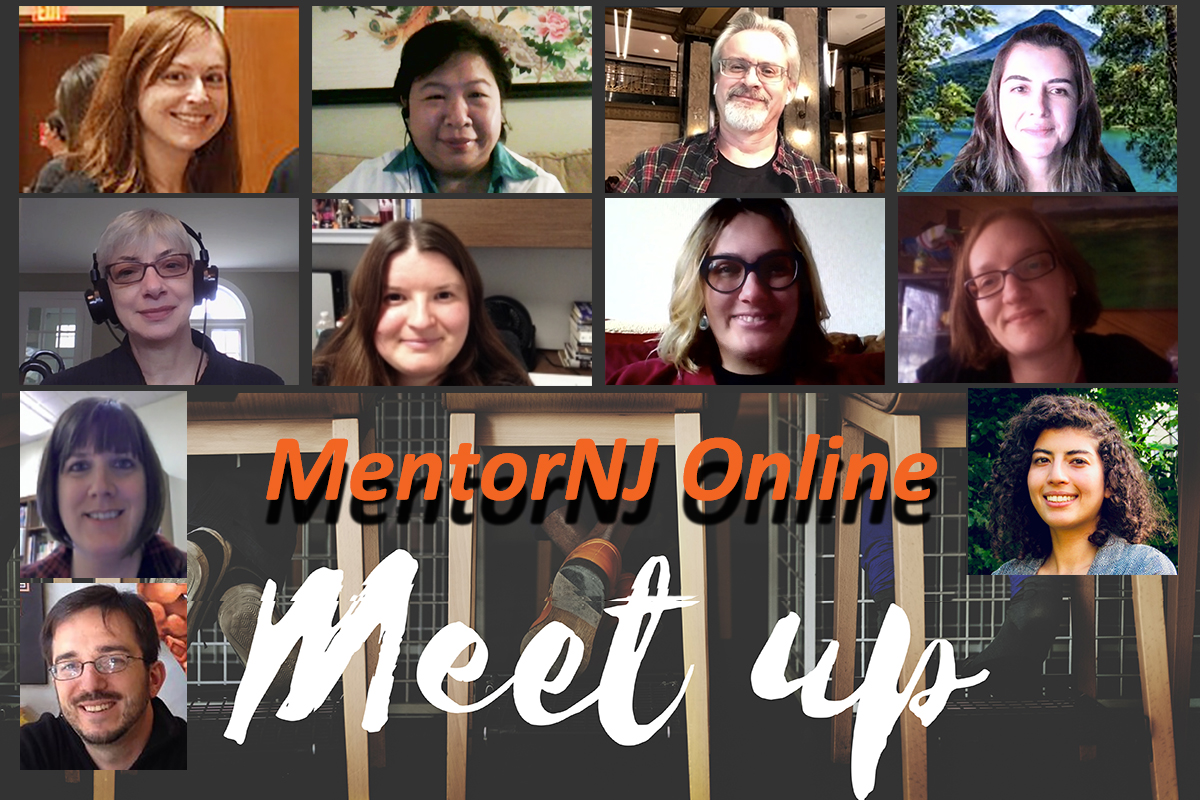 Let's come together to network and figure out how to take care of ourselves and our patrons! We all have a lot to learn from each other.
No registration is required, but each session is limited to 100 people.
Each week we will send out the Zoom meeting information for all meet-up sessions scheduled for that week, via LibraryLinkNJ's mass mailing system.
Please DO NOT share the Zoom meeting room information publicly (See why we ask this

).

Please know we will not be able to provide any technical support during our online meet-ups. Please see the Zoom resources section prior to any session you intend to attend, so that you can join the meet-up without any trouble.
If you have any suggestions or thoughts to share with us after you attend each meet-up, please use our Online Meet-up Feedback Form.
If you have any questions or need help, please emaill us.
---
Online Meet-ups & Discussion Leaders
Topic
Discussion Leaders/Coordinators
Youth Services Meet-up
Maryjean Riou & Melissa Nemitz, Hunterdon County Library System;
Erica Krivopal, Piscataway PL
Services for Immigrant Communities
Irene Langlois, Maplewood Memorial Lib.; Mi-Sun Lyu, LibraryLinkNJ
Juggling Librarianship and Parenting
Kimberly Paone, Matawan Aberdeen PL;  Doug Baldwin, Piscataway PL;
Erica Krivopal, Piscataway PL
Adventures in Administration
: Directors & Administrators Meetup
David Costa, Sparta PL;
Nadine Sergejeff, Newark PL;
Irene Langlois, Maplewood Memorial Lib.
Tech Meet-up
Doug Baldwin, Piscataway Public Library
Leading Lean Libraries
Mary Martin, Wanaque Public Library
Support for Intellectual Freedom Fighters Meet-ups (Rotating Discussion Leaders)
 
Tara Cooper Weiss, NJASL Intellectual Freedom Chair Tricina Strong-Beebe, NJASL Advocacy Chair
 
Sharon Rawlins, NJ State Library Youth Services Specialist for Lifelong Learning
 
Carol K. Phillips, Jen Fitzgerald, & Judith Pissano; NJLA Intellectual Freedom Subcommittee
 
Leadership of the New Jersey Rapid Regional Response Team Initiative
 
Beth Cackowski, Youth Services Supervisor, Cherry Hill Public Library
School Library Staff Meetup
Darby Malvey, LibraryLinkNJ and Michelle McGreivey, Hoboken High School Library/NJASL
EDI Meet-ups
      Asian/Pacific Islander Meet-up
Jennie Pu, Hoboken Public Library and Mimi Hui, Hasbrouck Heights Public Library
      Latino Library Staff Meet-up
Lizette Melendez-Villegas, 0Library Assistant
If you have any questions, please contact us --- MentorNJ Task Force.
---
Topics, Discussion Notes & Descriptions
We have hosted the following online meet-ups since April 2020.
* Previous meet-up notes are shared via GoogleDoc. 
Topics
Descriptions
Mega Meet-up
 

 

Everyone in the New Jersey library community is welcome to attend!

Latino library staff are invited to come together for an online meet-up where we'll to share our thoughts, ideas, and challenges, build community, and care for each other. Library workers who do not identify as Latino but desire to grow their understanding of Latino issues and to become our allies, are also welcome to attend.

School Library Meetups 
School librarians and school library staff are invited to join us for discussions focused on the unique challenges, opportunities, and needs of K-12 school libraries. Join your colleagues from around the state in these virtual meetups where you decide on the topic of conversation. Whether you're alone in your school or district and just looking for a chance to connect with colleagues, new to school libraries and seeking guidance for your program, or a veteran hoping to share your knowledge and see what's new, our School Library Meetups are for you!
Let's start our week off with a chance to share what's going on in our libraries and lives! A place to network, share, discuss, and support each other during these challenging times!

Adventures in Administration
: Directors & Administrators Meetup
 

Join us for an informal discussion about the challenges and opportunities we are currently facing as library leaders.

Services for Immigrant Communities

 

 

What has been the impact of the pandemic on your services for the immigrant community? Have you been able to provide ESL or Citizenship classes virtually? What barriers have your students faced as a result? Let's share ideas and look for new ways to support our immigrant populations in these trying times. We can also discuss related programming such as high school equivalency classes and job search workshops.

MentorNJ is excited to add an additional virtual meetup opportunity to our slate of weekly sessions - MentorNJ Technology Meetup! These meetup sessions were occurring every two months in person all over the state prior to Covid-19, and now we would like to take this discussion opportunity virtual! 

MentorNJ Technology Meetup is an opportunity to discuss any topics related to technology, applications in libraries, technology challenges and success, and much more as we face an uncertain future where tech will play a vital role in our work and public services. This meetup is for any library staff, at all levels, who are interested in and would like to talk about topics in technology. While we hope one day soon to be able to again host our regional in-person tech meetups, this is an opportunity to allow our conversations to continue and consider the future as well.

Having a home/work balance is now tougher than ever before - join this discussion to share ideas, talk about strategies, and even vent a little. You are not alone!
Some thoughts on the importance of self-care.

Zoom Tutorials

Open session Zoom training,
Led by Hebah Emara, Elizabeth PL

Adult Services
: Modifying Services While Serving the Community

Join us for a chat about the challenges we face while trying to provide essential services while our libraries remain closed. Share ideas, brainstorm, and let others know what types of initiatives have been successful.
Led by: Nadine Sergejeff, Newark PL & Mimi Hui, Hasbrouck Heights PL

Ideas for the Work From Home (WFH) Library Assistant

Brainstorm with Library Assistants and Supervisors on productive tasks that can be completed from the comfort of your living room! Let's share what we're doing in this new not-so-normal world. What works? - What doesn't? Join us and get those creative juices flowing!
Led by: Irene Langlois, Maplewood Memorial Lib. & Zara Wilkinson, Rutgers University-Camden
Curbside and Contactless Pickup Service Meetup
Join us for an informal discussion about implementing curbside and contactless pickup. Has your library started offering this service? Share your lessons learned. Have no idea where to start? Let's discuss your options.

Youth Services Meet-up
&
Summer Reading Check-in:

Let's chat about online programming, how to navigate the wealth of online resources, and books! We can't forget the books; they will always be there for us in our hour of need.
Led by: Maryjean Riou, Hunterdon County Lib. & Erica Krivopal, Piscataway PL
Youth Services & Back to School Prep
Is your school district resuming in-person instruction in September? Some parents/guardians are choosing to opt-out of in-person instruction, while some school districts are asking for full remote instruction. As a result, there are concerns that students may be left unsupervised on those days when they are not in school and parents may have to return to physical workplaces. Without a vaccine for COVID-19, public libraries cannot encourage anyone to linger and must adhere to policies regarding unsupervised students in the library. How is your library preparing for these different scenarios? Let's chat about your back to school plans, Fall online programming, and school library and public library partnerships.
---
Zoom Resources
If you haven't used Zoom before, it works universally on computers and mobile devices. You can test at zoom.us/test.
Zoom Help Center
Security Tips