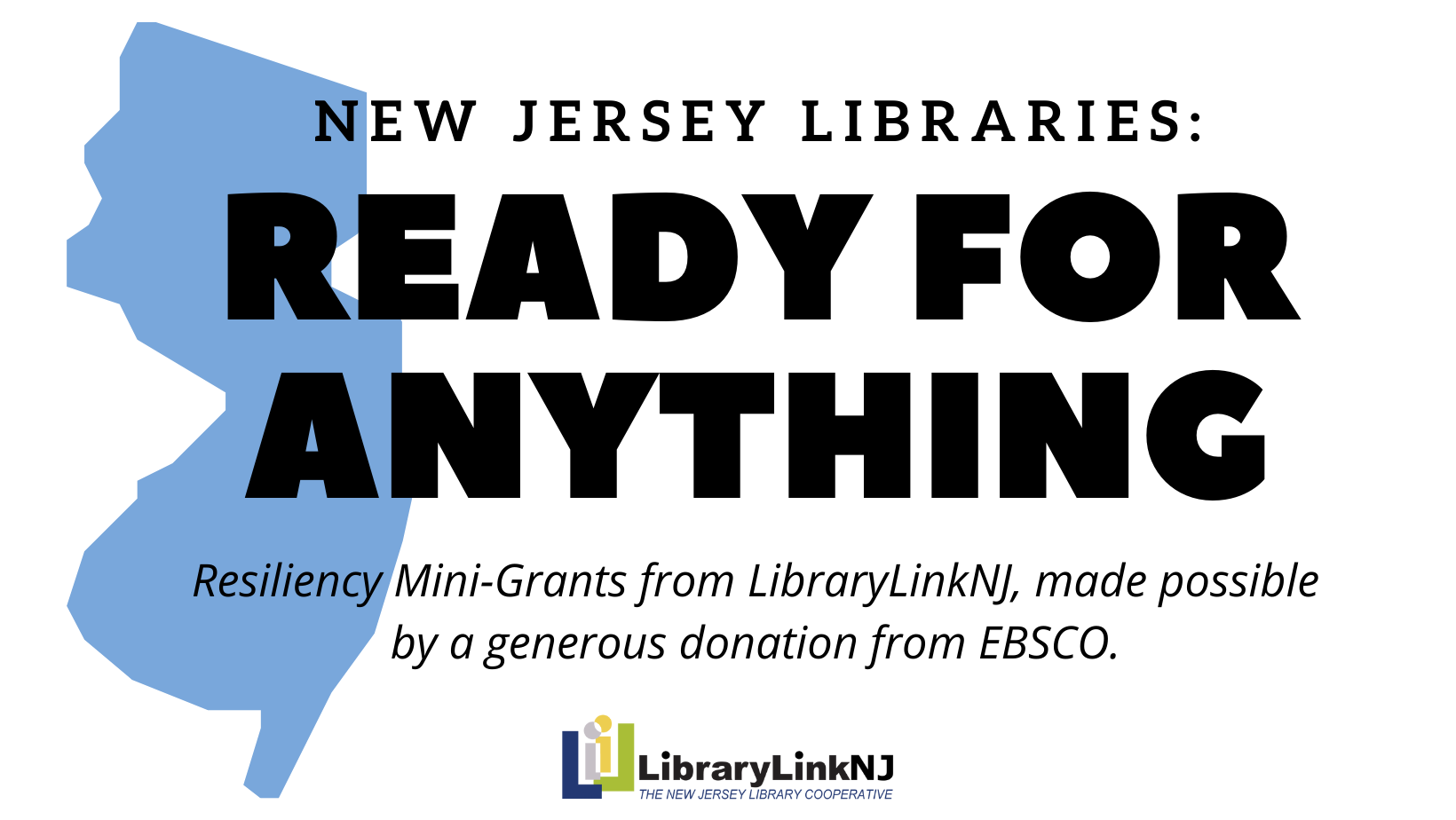 Tough, forward-thinking, and good in a crisis - New Jersey's libraries have proven time and again just how agile they can be when it comes to helping their communities react to the unexpected. Now, LibraryLinkNJ is pleased to offer a grant opportunity that will allow our member institutions to prepare for their next great challenge. A generous donation from EBSCO Information Services will fund this FY22 mini-grant program, designed to help libraries plan for even the most difficult of circumstances. Harness your library's ingenuity, creativity, and strength as we work together to get ready for anything.
---

Overview
Goal: Help libraries respond strategically to the challenges and opportunities they face.
Objectives:
Support member institutions as they navigate the new normal following the unprecedented challenges of the COVID-19 pandemic
Assist member institutions as they prepare for future out-of-the-ordinary challenges
Foster a culture of preparedness and resiliency among New Jersey's multi-type libraries
Challenge libraries to examine the plans and procedures in place regarding response to emergency and crisis situations, whether within their institution or as a function of their service to their communities
Measures of Success:
Multi-type New Jersey libraries are able to launch initiatives that leave themselves or their communities better prepared for future challenges
Initiatives which receive funding are in response to situations which have a reasonable, demonstrable likelihood of impacting the contract library or the community it serves
Contract libraries promote and document response and impact
[ back to top ]
---

Introduction and Project Rationale
The unprecedented events of the ongoing COVID-19 pandemic have presented unique, often overwhelming challenges to the New Jersey library community. While many of our libraries are still dealing with the changes and challenges wrought by the pandemic, what has already become clear is that New Jersey libraries proved themselves to be agile, resilient, and essential in the face of the extraordinary stresses and struggles of this crisis.
Yet COVID-19 is hardly the first crisis situation to which our libraries have had to respond - and it certainly won't be the last. New Jersey libraries have had to reevaluate, reinvent, and occasionally even rebuild in the face of an increasing number of unexpected challenges.
It's never been more apparent, therefore, that libraries need to be prepared.
That's why LibraryLinkNJ is proud to announce a FY2022 mini-grant program designed to assist New Jersey libraries as they anticipate and prepare for their next big challenge. We invite member libraries of all types to examine their current practices and offerings, look ahead at what may be the next situation to significantly impact their library or community, and create a plan to help get ready for it.
No match is required. We're offering a straight subsidy of between $1,000 and $5,000 to fund initiatives in member libraries of all types.
Application materials will be available on this page beginning Friday, August 13th, 2021.
[ back to top ]
---

Project Description
Submit any questions by email to Darby Malvey, darby@librarylinknj.org.
Timeline
| | |
| --- | --- |
| Project Launch: | August 13, 2021 |
| Application Deadline: | September 30, 2021 |
| Award Notification Date: | October 26, 2021 |
| Project Completion Deadline: | April 26, 2022 |
| Participant Project Report Date: | May 10, 2022 |
Funding:
| | |
| --- | --- |
| LibraryLinkNJ | $50,000 (funding donated by EBSCO Information Services) |
LibraryLinkNJ and its services are funded by the New Jersey State Library, which is responsible for the coordination, promotion and funding of the New Jersey Library Network.
[ back to top ]
---

Eligibility, Application, Contract Award and Subsidy Process
Eligibility:
LibraryLinkNJ member libraries and library-related agencies of all types that are in good standing* are eligible to apply for a contract award and the subsidy.
*Not sure if your institution is a member in good standing? Reach out to our staff to check on the status of your membership.
Application Process:
Eligible LibraryLinkNJ member libraries should fill out and submit the application form via mail or email (PDF required) to the addresses indicated on the application. The submission deadline is September 30, 2021 at 4:00pm. An earlier submission date is allowed.
Applications will be reviewed for required elements. Incomplete applications will be deemed ineligible.
Applications accumulate until the start date for evaluation.
A Grant Evaluation Panel will evaluate all eligible applications.
Libraries that apply agree to submit final fiscal and project reports to LibraryLinkNJ no later than May 10, 2022.
Participating libraries must agree that LibraryLinkNJ can share their report data with the membership, the library community outside the state, and selected media venues.
Contract Award Process:
The criteria for receiving a contract award include:
Applicant fulfills application process and signs contract award agreement if so offered.
Applicant partners with a local institution(s), organization(s) and/or business(es). This is not required but is encouraged.
Applicant describes current staff knowledge/capacity & interest, including approaches to staff training, staff scheduling, and programmatic scheduling.
Evaluation Panel will use a rubric which lists required elements and has point differentiations for the responses from applicants. Each of the following categories will be ranked in the range from 1 to 10, where the project application requirements are: not met (0), partially met (1-6), fully met (7) and exceeded (8-10).

Application Certification & Project Table Completion
Project Title & Description
Description of Project Personnel & Partners
Project Goals & Objectives
Statement of Need
Overview of Implementation Timeline
Detailed Project Budget
Description of Marketing Strategy and Publicity Plan
Description of Evaluation Plan
Description of Sustainability Plan
[ back to top ]
---

Grant Application & Guidelines
| | |
| --- | --- |
| Ready for Anything Grant Guidelines | PDF |
| Ready for Anything Grant Application & Narrative | MS Word | PDF |
---
Frequently Asked Questions
1. What kinds of projects or programs are eligible to be covered? 
     Proposed projects or programs should take into account the following criteria:
The proposed project, program, or items for purchase are considered a direct response to the submitting library's next great challenge. This could be anything from preparing for a natural disaster, to responding to a rising community health concern, to training staff for crisis response, and much more.

Materials and equipment are considered eligible expenses, but applications requesting funds for material or equipment purchases should clearly explain how the proposed items will be used within the larger context of preparation for, or response to, an out of the ordinary circumstance.

There must be reasonable cause to believe that the anticipated challenge or circumstance identified by the applying institution is, in fact, likely to occur. For example, a library wishing to fund mitigating measures for flood damage should be able to demonstrate why they believe that flooding is a pressing concern to their particular institution.
2. Are school, academic, or special libraries eligible to apply?
     Yes: applications are not limited to any particular library type.
Libraries of all types are encouraged to apply, as long as the submitting library is a member in good standing of LibraryLinkNJ.

If you aren't sure whether your library is a member in good standing, feel free to reach out to Darby Malvey (darby@librarylinknj.org).
3. Are schools, colleges, universities, or other institutions eligible to apply?
     Applications must come from LibraryLinkNJ member institutions.
LibraryLinkNJ members are encouraged to work in partnership with the larger communities and institutions of which they are part, but applications should come from the member institution itself and proposed projects or programs should be managed by the same. An elementary school, for example, is not eligible to apply; but the elementary school's library is eligible to submit an application - because the library, specifically, is a LibraryLinkNJ member.
4. Can multiple branches of the same library system or multiple school libraries within the same school district apply?
     Yes, as long as each is a member in good standing of LibraryLinkNJ.
5. Do I have to be the voting representative for my institution to submit an application/serve as Project Director?
     Any member of the applying institution may serve as the Project Director.
The Project Director, however, should be someone whose primary responsibilities within the larger organization are as part of the library or other LibraryLinkNJ member institution. Using the example from above, if an elementary school library submits an application, the Project Director for that application should be a staff member whose primary job responsibilities are as library staff - classroom teachers, administrators, counselors, etc. should not be serving as Project Director.
6. Is there any fund matching required for the applying institution?
     This is a straight subsidy; no fund matching is required.
[ back to top ]