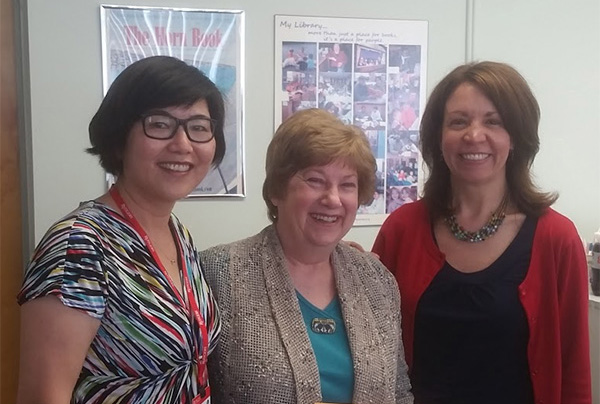 [ From left: Yingting Zhang, HSLANJ President, Cheryl and Jeannine Creazzo ]
We share our warmest congratulations and thanks to outgoing Executive Director Cheryl O'Connor on her retirement at the end of September. We will miss her strong leadership, clear vision, as well as her deep concern for her colleagues' well-being and their professional development. All the members of the New Jersey Library Network have directly benefited from her long, steadfast devotion to the importance of multitype library cooperation. Her hard work, dedication and can-do spirit are a true example of the best in our profession. We all wish her the best of luck, health and happiness in this new phase of life. 
In accordance with Cheryl's wishes for minimal fanfare on this milestone, there won't be a formal retirement dinner, but colleagues throughout the state have been acknowledging and celebrating her 46 years of service to libraries of all kinds. Most recently, HSLANJ presented Cheryl with a resolution to thank her for her work with them over the years. She also was the recipient of the 2015 ASCLA Leadership & Professional Development Award.