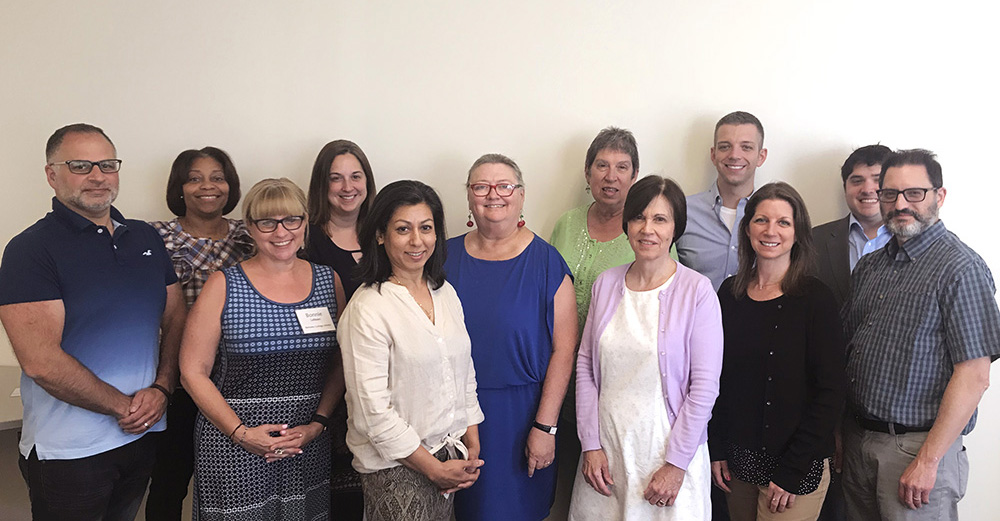 LibraryLinkNJ Executive Board Meeting, July 17, 2018:
[from the left] Chris Carbone, Tanya Finney Estrada, Bonnie Lafazan, Laurie Matassa, Ranjna Das, Kathy Schalk-Greene, Irene Sterling, Deborah Magnan, John Bonney, Jennifer Podolsky, Phillip Berg, and Steven Chudnick
The LibraryLinkNJ Executive Board met at the Cooperative's offices in Piscataway on July 18 to develop their approach to shepherding the organization through the uncertainties of the current fiscal year. We welcome the following five colleagues to the LibraryLinkNJ Executive Board:
Phillip Berg (MAIN - Morris Automated Information Network)
Chris Carbone (South Brunswick Public Library)
Bonnie Lafazan (Berkeley College Library)
Deborah Magnan (Samuel and Sandra Hekemian Medical Library at Hackensack University Medical Center)
Laurie Matassa (Jackson Liberty High School)
LibraryLinkNJ gratefully thanks outgoing Board members Janice Cooper (Northern Valley Regional High School at Old Tappan), Heather Craven (County College of Morris), Kimberly Paone (Matawan-Aberdeen Public Library), Lynne Pascale (Collingswood Middle and High School), and Anne Wodnick (Gloucester County Library System) for their dedicated service.
At their July meeting, LibraryLinkNJ's Executive Board reorganized with new officers for the current fiscal year:
President: Ranjna Das, Burlington County Library System
Vice President: Steven Chudnick, Brookdale Community College
Secretary: John Bonney, Neptune Public Library
Treasurer: Rick Vander Wende, Lay Representative
Assistant Treasurer: Michelle McGreivey, Hoboken High School
New LibraryLinkNJ Board President Ranjna Das remarked, "I'm honored to have been elected to serve as president of the Executive Board. I believe the future remains bright and I'm eager to start working with the entire board, as well as LLNJ staff, to help meet the fiscal challenges that lie ahead. We will all work together to maintain services for libraries across the state, while making strategic and economic decisions."
Super Library Supervisor Registration is Open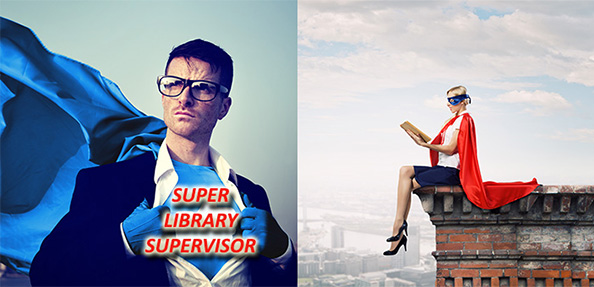 Super Library Supervisor Registration is Open Registration is now open to participate in the lottery process for our Fall 2018 series of Super Library Supervisor, to be held at the Monroe Township Public Library on the following dates:
September 5, 2018
September 12, 2018
September 27, 2018
October 3, 2018
The registration lottery is limited to 50 potential participants. The final participation list of 35 colleagues will be determined by lottery in mid-August.
This is the only series of Super Library Supervisor workshops we will offer in FY19.
Target Audience:
Library staff who are currently supervisors and have less than five years of supervisory experience.
Participants must be actively working as a supervisor at the time the series begins.
More experienced supervisors are welcome, if this is their first supervisory training.
Registration:
Register online via the Super Library Supervisor page. Registering for the lottery is a commitment to attending all four workshops.
We will accept up to 50 registrants; registration secures only participation in the lottery.
Space is limited to 35 participants, chosen by lottery.
Registration will close on July 31, 2018 or when the limit has been reached, whichever comes first. Colleagues will be notified of their participation status by August 3, 2018.
Please contact jroukens [at] librarylinknj.org (Joanne Roukens) or sbrookover [at] librarylinknj.org (Sophie Brookover) with any questions.
---
On-Site, On-Demand Staff Development
New Programs Added! Let us Help You Make a Difference!

We know how essential ongoing professional education is in the work lives of all staff members, and we want to make it as efficient and cost-effective as possible. LibraryLinkNJ will subsidize up to $500 of the cost of one staff development workshop per year for participating member libraries of all types. For full details on how this service works, visit the On-Site, On-Demand Program page.
The On-Site, On-Demand Staff Development program directly supports our strategic goal of providing opportunities for staff to acquire new skills, advance their learning and grow professionally.
Key Points:
Members are not limited to a specific menu of on-site training options. We provide a variety of suggested options for your convenience.
You may either choose a workshop from our Suggested Programs & Consultants List or work with other vendors/consultants.
LibraryLinkNJ offers a subsidy of up to $500 for each approved request.
There is a limited budget for this service, so please submit requests early.
Full details on how this service works, are available at the On-Site, On-Demand Program page.
If you have any questions, please email or call jroukens [at] librarylinknj.org (Joanne Roukens) (Tel: 732-752-7720)
---
Starting August 1, the terms of LibraryLinkNJ's contract with Lynda.com are changing.
Previously, we've been able to offer our Lynda.com licenses to colleagues on a monthly rolling basis. Now, we need to offer those licenses to individual staff members at member libraries on a fixed & permanent basis for the remainder of our contract with Lynda.com
We're holding a lottery to assign licenses. If you win a license, it will be yours until the conclusion of our contract with Lynda.com in April 2019.
To distribute the licenses equitably among staff at our member libraries, we'll use a lottery process, taking registrations from up to 60 colleagues and then selecting 29 entrants using a randomizer.
The lottery will open on August 1 and will close on August 14, or when we receive 60 lottery registrations, whichever occurs first. We'll complete the lottery process and inform winning colleagues by August 20.
The estimated timeframe for winning colleagues' use of their individual Lynda.com license will be September 4, 2018 - April 15, 2019.
Date & Time: Friday, October 5, 2018 | 10:00 am - 4:00 pm
Location: Monroe Township Library (Middlesex County)
Audience: Open to Everyone 
MentorNJ's signature annual event is back, free, and open to all library staff in the NJ library community! This year's event will feature networking and refreshments, along with a keynote presentation on Current and Emerging Technology Trends with Bohyun Kim (Chief Technology Officer and Associate Professor at the University of Rhode Island Libraries), breakout conversations on various and practical topics on technologies, lunch, and more!
More event details will be added to the event page, and registration will open on Monday, August 6, 2018.