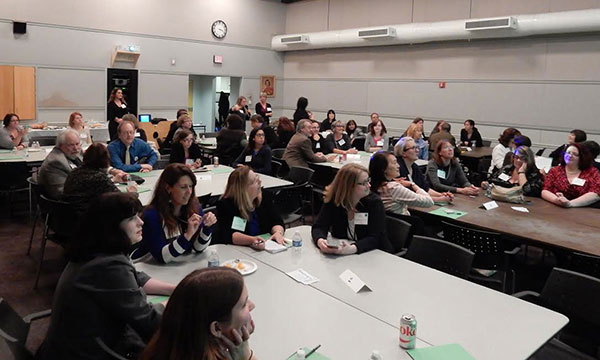 [Photo by Lindsey Meyer, Edison Public Library]
The MentorNJ In-Person Networking Event at the Monroe Township Library on Friday, October 2, was a great success. In spite of the uncooperative weather conditions (influenced by Hurricane Joaquin), 59 passionate library colleagues from around the state gathered together to network with each other to celebrate the profession, as promised!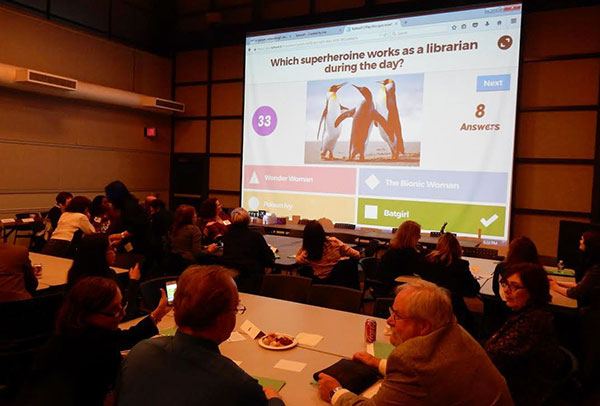 [Photo by Lindsey Meyer, Edison Public Library]
The Opening Talk, The Importance of Joining Professional Organizations and Attending Conferences and Webinars and the Panel Discussion, What Do Libraries Look for in Their Next Hire were both practical and lively. Participants then enjoyed collegial networking opportunities, mock interviews and resume reviews. Many attendees also sat for updated headshots with a professional photographer. As the final program of the day, everyone played a team-based Trivia Game, and the competition was funny and fierce! Julie Walsh was the wonderful emcee for the game, and all participants played to win (but fairly)!
The MentorNJ Project Team would like to thank everyone who participated in the event and made it so much fun and valuable! We also thank you for sharing your feedback with us, and we'll make sure to take all your suggestions into consideration when we plan our future programs. Check out the MentorNJ webpage for more information.
We would also like to give our special thanks to the NJ State Library and the LibraryLinkNJ staff for their help with event material preparation and to the speakers, panels and volunteers who shared practical advice and thoughts with all participants at the event. Read more about the event here!
MentorNJ - Linking Library Staff Statewide,
a new joint initiative funded by the New Jersey State Library and LibraryLinkNJ.
It is co-sponsored by the NJLA Professional Development Committee &
Leadership and Education Subcommittee.
This networking event is also produced in collaboration with the NJLA Member Services Committee.