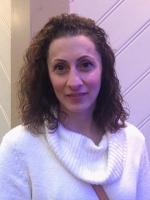 Job Title
Administrative Operations Manager
Phone
732-752-7720 ext. 104
Staff Bio
Jennifer Bruno joined LibraryLinkNJ as the Administrative Operations Manager after working over ten years in the medical field. Jennifer graduated from Pace University in 2005 with her bachelors in Public Accounting and Auditing. While completing her bachelors degree Jennifer was given the opportunity to start working full-time for Merrill Lynch as a billing system Auditor which she did for 6 years. Jennifer decided it was time for a change and moved to the business side of healthcare. At that time she worked for Staten Island University Hospital's Case Management Department. She reviewed the Quality Assurance and Audited the entire social work department. While networking she was approached by a start up social services company which geared their services toward homebound and geriatric population. They knew Jennifer would bring her strong leadership qualities and help with building a diverse well trained staff. During her four years Jennifer held the Intake Manager position and helped the agency grow from 250 patients to over 1000 patients across NYC. She was very passionate about the agency's mission, which helped form referral bonds with hospitals and private medical offices.
In 2018 Jennifer welcomed her second child and was living in New Jersey with her family. At this time she wanted be closer to home and and decided to pursue a different path in the medical field. Jennifer joined an Outpatient mental health agency as an Administrative Assistant and rapidly grown within the agency and became the Facility Director 2020.
When not working, Jennifer is busy supporting her two boys with hockey and Jiu Jitsu. She also loves traveling and gardening with her husband.