We're still floating on a cloud of good feeling and newly overflowing to-do lists thanks to last week's Membership Meeting and Workshop, held at the Monroe Township Public Library in Middlesex County. A big thank you to all the colleagues from member libraries whose participation contributed to the success of the day. It was wonderful to once more gather and learn with you.
Geoff DiMasi, whose team from P'unk Ave facilitated our Makerspace Next Steps workshop in June, led the meeting's morning workshop, Don't Just Survive - Thrive! The activities Geoff and his colleague Ilyssa Kyu developed led us to brainstorm and strategize projects and services for our communities. These exercises were punctuated by five Lightning Talks by colleagues in libraries and library-allied professions:
Carina Gonzalez, Raritan Valley Community College
Briann Greenfield, New Jersey Council for the Humanities
Arlen Kimmelman, Clearview Regional High School
Robb Mackes, Health Sciences Library Association of New Jersey
Mary Rizzo, Rutgers University-Newark
Following a delicious buffet lunch, Executive Board President Kimberly Paone chaired a business meeting during which the Voting Reps in attendance voted to accept the following documents:
We'd also like to thank our generous hosts at the Monroe Township Library. We look forward to seeing many of you at our Spring Membership Meeting in May!
Fall Membership Meeting Photos
See more photos on our Facebook Page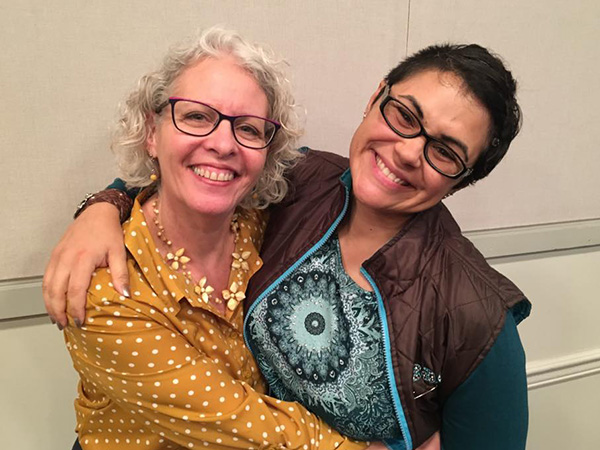 Arlen Kimmelman & Carina Gonzalez, lightning speakers
on crowdfunding for stationary bikes in the school library
& redesigning a high school library from top to bottom.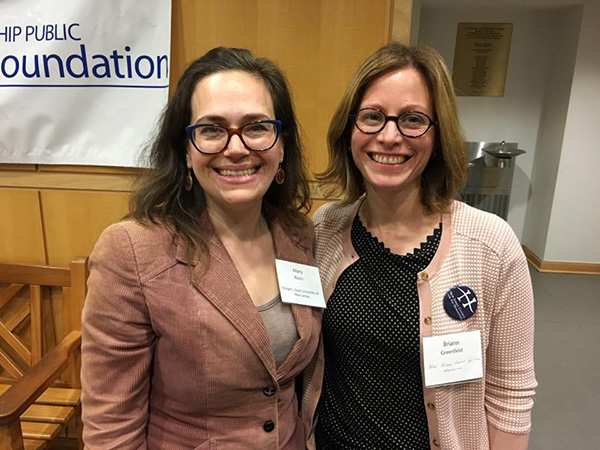 Lightning Speakers Mary Rizzo (Rutgers University-Newark,
lead organizer of the annual public history Telling Untold Histories Unconference)
and Briann Greenfield (Executive Director of the New Jersey Council for the Humanities)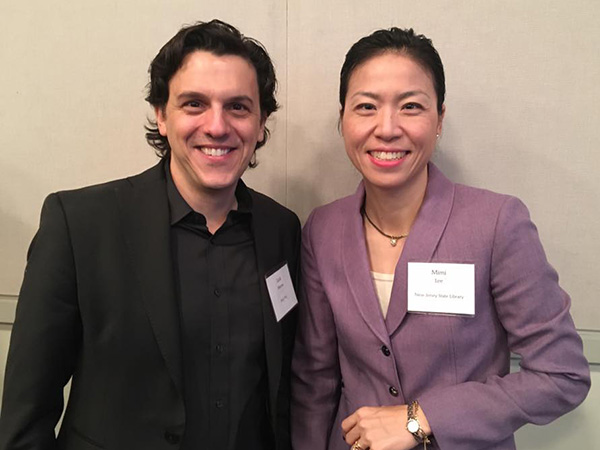 Luca Manna (PALS Plus) & Mimi Lee (New Jersey State Library)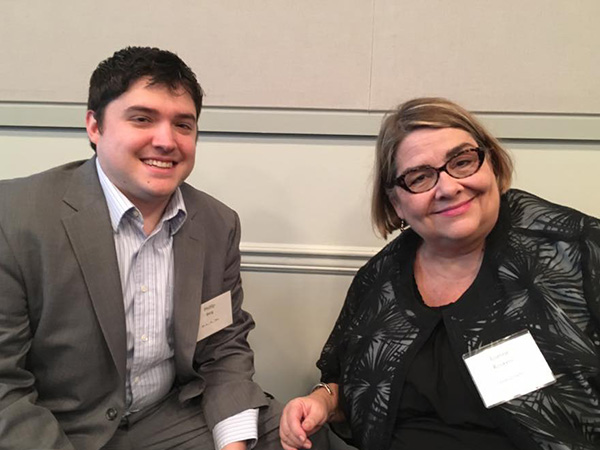 MAIN Executive Director Phillip Berg & LibraryLinkNJ Assistant Director Joanne Roukens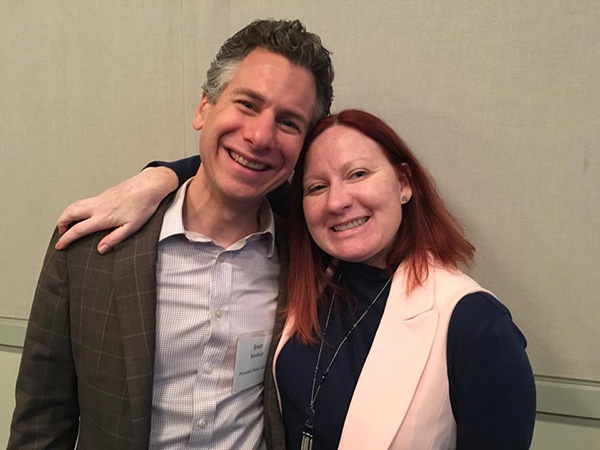 Brett Bonfield (Princeton Public Library) & Laverne Mann (Cherry Hill Public Library)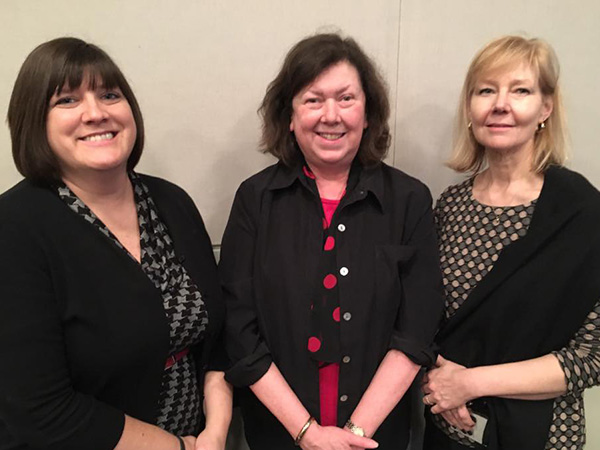 (From the left) LLNJ Executive Board President Kimberly Paone,
Pat Massey (New Jersey Association of School Librarians Board) and LibraryLinkNJ Board member Janice Cooper
Data Visualization for the Rest of Us
Presented by Linda Hofschire, Colorado State Library
Wednesday, January 4, 2017 | 10-11:30 AM
Registration is now open for Data Visualization for the Rest of Us, a webinar with Linda Hofschire of the Colorado State Library.
You don't have to be a graphic designer to present your library statistics in a way that effectively communicates value. In this session, you'll learn quick and easy tips for visually displaying your statistics so that they tell a meaningful story about your library, whether your data visualization aspirations consist of adding a few Excel charts to a board report, or designing a complex infographic for your website.
After participating in this webinar, you will be able to:
Explain why visual presentation of data increases viewer comprehension.
Apply design principles to your visual presentations of data to increase their effectiveness.
Create a basic infographic that tells a meaningful story about your library.
This webinar is designed for all library staff involved in public service and sharing the library's story. Join us!
---
Save The Date!
The Library Programmers Jamboree
March 14, 2017
This event is a co-production of Princeton Public Library and
LibraryLinkNJ, The New Jersey Library Cooperative
What: An unconference for all staff at public and academic libraries who work on planning and providing public programs for adults. An unconference is organized, structured, and led by the people participating in it.
Where: Princeton Public Library, 65 Witherspoon Street, Princeton NJ 08542
When: Tuesday, March 14, 2017 | 10:00 AM - 3:30 PM
Who: This event is for all staff at public and academic libraries who work on planning and providing public programs for adults. Space is limited to 50 participants.
How Much: The cost for this full-day unconference is just $25.
Registration opens at 9 AM on Wednesday, January 4, 2017
Full details will be available shortly!
What You Can Look Forward To:
9:30 am - 10 am: Registration and Coffee
10 am - 10:15 am: Welcome & Introduction
10:15 - 11:15 am: Lightning Talks
11:15 - 11:30 am: Setting up sessions
11:30 am - 12:00 pm: Unconference Session I
12:00 pm - 12:30 pm: Unconference Session II
12:30 pm - 1:30 pm: Lunch
1:45 - 2:45 pm: Program Speed Dating
2:45 - 3:15 pm: Wrap-up / Best thing you learned today
Co-organizers Janie Hermann & Sophie Brookover will be recruiting presenters for both Lightning Talks and Program Speed Dating. Interested in showcasing your work? jhermann [at] princetonlibrary.org (Let us know)!
---
Super Library Supervisor: Registration Opens February 7th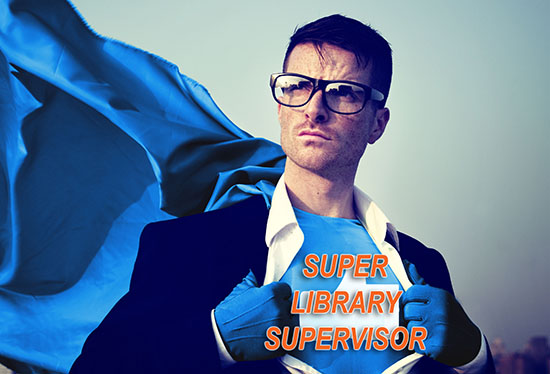 Mark your calendars now! Registration for Super Library Supervisor will open at 10 AM on Tuesday, February 7, 2017.
Target Audience: Library staff who are currently supervisors and have less than five years of supervisory experience. (More experienced supervisors are welcome, if this is their first supervisory training.)
We have booked the dates for the 2017 edition of this perennially popular series of workshops. All programs will be held at the Monroe Township Public Library in Middlesex County on the following dates:
March 22, 2017: What it Means To Be a Supervisor (March 29 is the snowdate for this workshop)
April 5, 2017: Personnel Documentation & Evaluation
April 19, 2017: Communications & Resolving Staff Conflict
May 3, 2017: Human Resources Basics and Running Successful Meetings (a two-in-one workshop)
Super Library Supervisor is extremely popular and space is limited to 30 participants to maintain a high level of quality in each workshop. We will be using the same equitable registration and lottery process implemented in 2016:
Registration will open at 10 AM on Tuesday, February 7. We will take up to 50 initial registrants through Tuesday, February 21.
Once we close registration, we will use a lottery process to select a final total of 30 workshop participants.
We are maintaining the limit of up to two participants from each library organization.
Registration is online only and you need a User Account with LibraryLinkNJ to register. If you don't have a User Account yet, today is the day to register for one. The approval process takes time and we don't want you to run out of time before registration opens.
More workshop information and registration details are available on the 2017 Series page.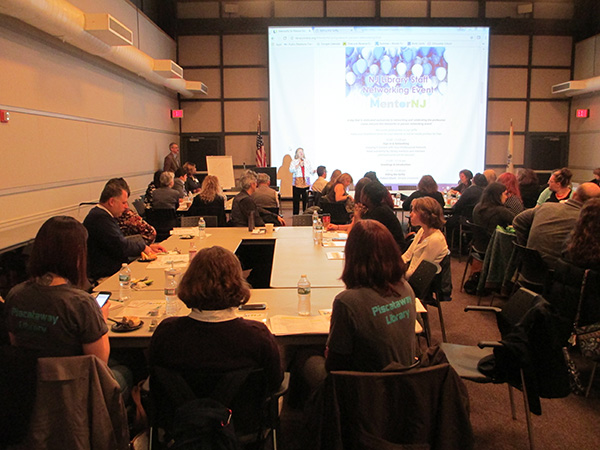 See more photos on the Event Photo Album
By Nadine Sergejeff, Newark Public Library, MentorNJ Team
The MentorNJ In-Person Networking Event at the Monroe Township Library on Wednesday, November 9, was a terrific event! Over 80 colleagues from around the state gathered together to network with each other and to learn about topics relevant to libraries.
Fobazi Ettarh, Resident Librarian at Temple University, presented a fascinating talk, Killing Me Softly, about identifying and understanding the effects of microaggressions. All attendees were able to engage in an interactive game designed by Fobazi which allowed the players to experience microagressions. Participants then networked with one another and had the opportunity to have their headshot taken by a professional photographer. After lunch, Courtney Young, Past President of ALA, presented Better Together: The Critical Role of Networking and Professional Development in Librarianship. This was followed by a series of table discussions on five various topics, including self-care, diversity and branding yourself. The event concluded with a raffle and 11 lucky participants won a fantastic prize.
The MentorNJ Project Team would like to thank everyone who participated in the event. We also thank you for sharing your feedback with us, and we'll make sure to take all your suggestions into consideration when we plan our future programs. Check out the MentorNJ webpage for more information.
We would also like to give our special thanks to the NJ State Library and the LibraryLinkNJ staff for their help with event material preparation and to the speakers and table discussion leaders who shared their expertise and advice with all participants at the event.