The New Brunswick Music Scene Archive is a new collection at Rutgers University's Special Collections & University Archives in New Brunswick. The collection aims to preserve and share the unique musical history of the Garden State's largest college town. We sat down with collection specialists Christine Lutz and Frank Bridges to discuss the project as it exists currently, and their plans for its future.
LLNJ: If the collection is open to the public now (it sounded from the article like it was still in process of being developed & made available), what has the response been?
Christine Lutz: Developing the archive is a long-term project, and while the collection is still small and not processed, described or arranged in the archival sense, I would be happy to work with anyone who would like to come in to see what we have so far.
We've had a tremendous response from people who have contacted us to let us know they have material they want to donate. When we had our kickoff symposium in October, each speaker brought items to talk about and to donate to the archive. We've also had some walk-in donations, been emailed scans of items like flyers, photos and newspaper clippings, and mailed items including an audio cassette.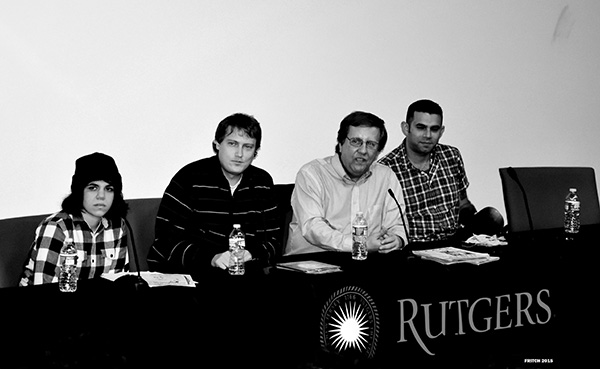 (Photo credit: Fritch Clark)
In the coming months, we intend to focus on working with potential donors and collecting more material. It would be nice to see a real growth in the archive leading up to our one-year anniversary in the fall. (And I should add that while we're focused on collecting rock/punk/hardcore right now, we intend to expand the archive so that we're inclusive of the varieties of music that have emanated from New Brunswick over the years.)
LLNJ: What items in the collection are your favorites or most meaningful to you?
Christine: I feel most drawn to the 7" vinyl we've been receiving from various bands. I discovered the format when I was in college in the 90s and sort of fell in love--it was easily collectible, affordable, had great, or at least interesting, cover art, and sometimes you'd find an item tucked inside the sleeve, like a tiny zine or catalog, or discover colored vinyl. Seeing these items in the music scene archive now takes me back to hours spent flipping through bins at record stores, buying a 7" from a favorite band at a show or being given a friend's band's 7" hot off the presses.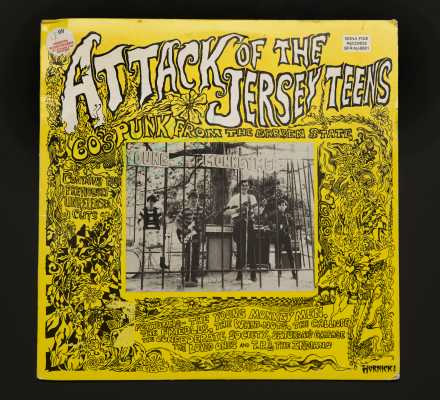 Vintage vinyl: Attack of the Jersey Teens
Frank: The things you don't expect or items that have come wrapped in mystery. I've been sent emails with just a JPEG or two, or maybe a link to something, and it has been fun playing detective and figure out the material's context to the scene.
LLNJ: What kind of research do you hope will emerge from students & scholars delving into this collection?
Christine: It's my hope that we can collect more material on women and other underrepresented groups who have been involved in the scene, so I would love to see some research on these groups not only in New Brunswick but also in similar scenes around the country. Long term, we would like to conduct and add oral histories to the archive, and the items in the archive and their donors could be a jumping-off point for that work. I would also be interested in exploring the possibility of creating a digital humanities project that would map the New Brunswick music scene, present and past, and not just sites such as venues, record stores and houses associated with the rock/punk/hardcore scenes, but with jazz, Latino music, etc.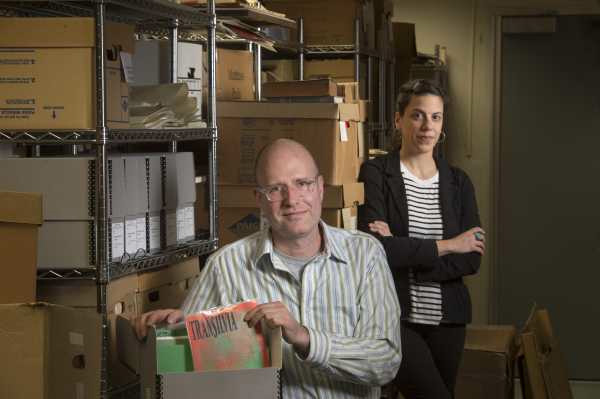 Photo credit: Nick Romanenko / Rutgers University
Frank Bridges and Christie Lutz with some of the first items in the New Brunswick Music Scene Archive.
LLNJ: What's your favorite popular culture special collection aside from this one?)
Christine: I'm always drawn to ephemera collections, and at Rutgers I'm currently having fun exploring our recently-processed New Jersey Menu Collection, (New Brunswick-centric menus from the collection on our blog). We have a range of menus dating from 1873 to the present from around the state, and they include a variety of menus from a handwritten lunch menu from the Court Tavern to beautifully printed late 19th century menus from Long Branch restaurants during the city's heyday as a seaside resort.
Frank: For me, this is the only collection I see myself working with for the immediate future since it will take me a year or two to finish my dissertation, which is the big work I'm hoping will emerge from the collection. I'll be looking at the New Brunswick music scene as a pocket of resistance to the decline of vinyl records. As far as favorites go, we really take inspiration from the DC Punk Archive. Along the same lines the Fugazi Live Series is a fantastic, super specifically focused archive. I was at the Rutgers show in 1989 and keep checking to see if anything gets added to this show.