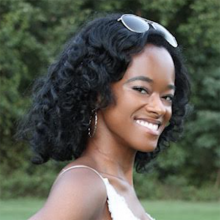 NJLA Diversity & Outreach Section
Danielle's extensive writing experience began in 2014, when she created her website PoetryBooksYA.com. On the website, she discusses reading favorite novels, poetry, and her advocacy for mental health.
She holds an Associate's degree in Liberal Arts from Middlesex County College, and a Bachelor's degree in Communications with a concentration in Journalism from the University of Phoenix. She worked as an editorial assistant for various companies, such as TV After Dark, Fangirlish.com, Glitter Magazine and SCS Creative, LLC. She was also a library assistant for the North Brunswick Public Library. Currently, she is writing her debut poetry novel 'Reality Check', coming soon.
She is the Secretary for NJLA's Diversity & Outreach Section, and a member of the Library Workers of Color. Danielle's past work experience was in retail and customer service.
Danielle can be found on social media: @dani_pitter and @poetrybooksya.