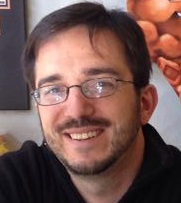 Piscataway Public Library
Doug Baldwin is a senior librarian with 9 years experience working in a variety of roles in public libraries. His experiences include working for large, medium and small sized libraries as an adult services librarian, systems administrator, and emerging technologies librarian. Doug is a graduate of both Rutgers University (BA, MLIS) and Montclair State University (MA) where my concentrations were in history and library science.
Doug shares that he has been fortunate to be able to gain a wide variety of experience in his roles in libraries over the years including selecting/maintaining computer and information technology systems, operating a library makerspace including programming and open hours, writing and administering several successful grant projects, working on statewide projects and initiatives, planning and implementing programming for all ages, as well as traditional adult reference and research services. He has also had the opportunities to take on several leadership roles in both NJLA and LibraryLinkNJ.
Doug's twitter handle is @baldwind1976