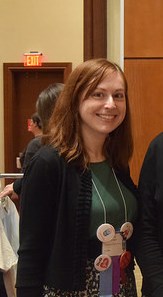 NJLA Leadership & Education Subcommittee Liaison
Piscataway Public Library
Erica has been a Teen Services Librarian at Piscataway Public Library since 2011. She is responsible for programming, collection development, and outreach services for adolescents in grades 6-12, as well as reference services to patrons of all ages. She also collaborates with the Children's Department to provide programming for youth in grades K-5.
In addition, Erica is an active member of the New Jersey Library Association. Since joining NJLA, Erica has had the opportunity to become involved with various sections and committees including:
Young Adult Services Section
Leadership and Education Subcommittee
Member Services Committee
Honors and Awards Subcommittee
Nominations and Elections Subcommittee
Conference Subcommittee
As part of the Leadership and Education Subcommittee, Erica coordinates NJLA's Emerging Leaders and Committee Internship programs. Furthermore, she is involved with the Libraries of Middlesex (LMx) Teen Group, which provides an opportunity for Young Adult/Teen Services Librarians in Middlesex County to meet up, collaborate on projects, and share experiences and ideas.